Q&A with Winnie Wat – Litigation Lawyer
31Jan2018
Winnie achieved her Bachelor of Laws at City University of Hong Kong with First Class Honours and completed an exchange on European Competition Law at the University of Oxford. She joined Tanner De Witt in August 2017 and currently assists our Litigation and Dispute Resolution practice.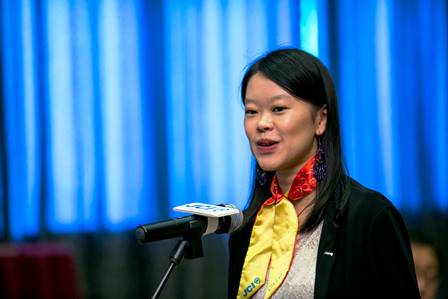 Why did you choose to become a lawyer?
I am very passionate about advocacy. When I was a law student, I participated in the Philip C. Jessup International Law Mooting Competition, one of the largest and most prestigious mooting competitions in the world. I argued on cases related to foreign direct investment, gender discrimination, multinational corruption and anti-terrorism measures. All of these cases prompted me to rethink what fairness, justice and equality were.
The Jessup experience also gave me great insight on the work of a litigator — to allow the grievances of parties to be fairly voiced, heard and addressed. I became very determined to be a litigation lawyer then.
It is very fortunate that our team was awarded Hong Kong Champion; we were also ranked 9th in the world for our written submissions in that competition.
Describe a typical day at work.
Apart from drafting legal documents, attending court hearings and client conferences, a large portion of my time is spent on researching and analysing.
We receive a lot of documents on a daily basis. We analyse each detail and consider the impact of each of the documents.
What part of being a lawyer do you personally find most satisfying? Most challenging?
It is a great privilege to be remembered and looked to when our clients encounter any difficulties in life. The job satisfaction from helping others through their difficult times and finding a way out in tough cases is simply incomparable and adds meaning to life.
Being a lawyer can be stressful at times. How do you maintain a good work-life balance?
I run, do karate and obstacle race, which often seems very unbelievable given my skinny appearance.
I become full of energy when I am looking for solutions to cases. Running or doing karate is one of the few times I can quiet down and enjoy peace of mind. I especially enjoy kumite (freestyle fighting) and find a lot of similarities between karate fights and litigation. We respect our opponents, play fairly and fight wisely against our opponents who come with different experience and strengths.
What's the best piece of advice you have ever received during your legal career?
"Always have compassion and empathy."
Although Aristotle says "The law is reason, free from passion", we are, at the end of the day, handling human disputes which are intertwined with emotions, frustration and grievances.
It is very important not to forget the humanistic side of the disputes and approach each case with compassion and empathy, to listen to the parties' concerns and worries, to step into their shoes and apply our expertise to suggest feasible and practical solutions to resolve their disputes.
If you had not become a lawyer, what other professions would you have considered?
Definitely a businesswoman. I love observing different people's needs, which often inspires a lot of creative (and sometimes bizarre) business ideas. I am very fortunate to be able to channel some of these ideas into viable community projects with some like-minded friends, where we can enjoy the process of doing social good and managing the project like a business at the same time.
Find out more about Winnie here.