Results of 2022 Chambers Greater China Region Guide announced
12Jan2022
Tanner De Witt is delighted once again to be recognised by Chambers & Partners in their inaugural 2022 Greater China Region Guide for each of its main practice areas. Please see full results and editorial commentary below.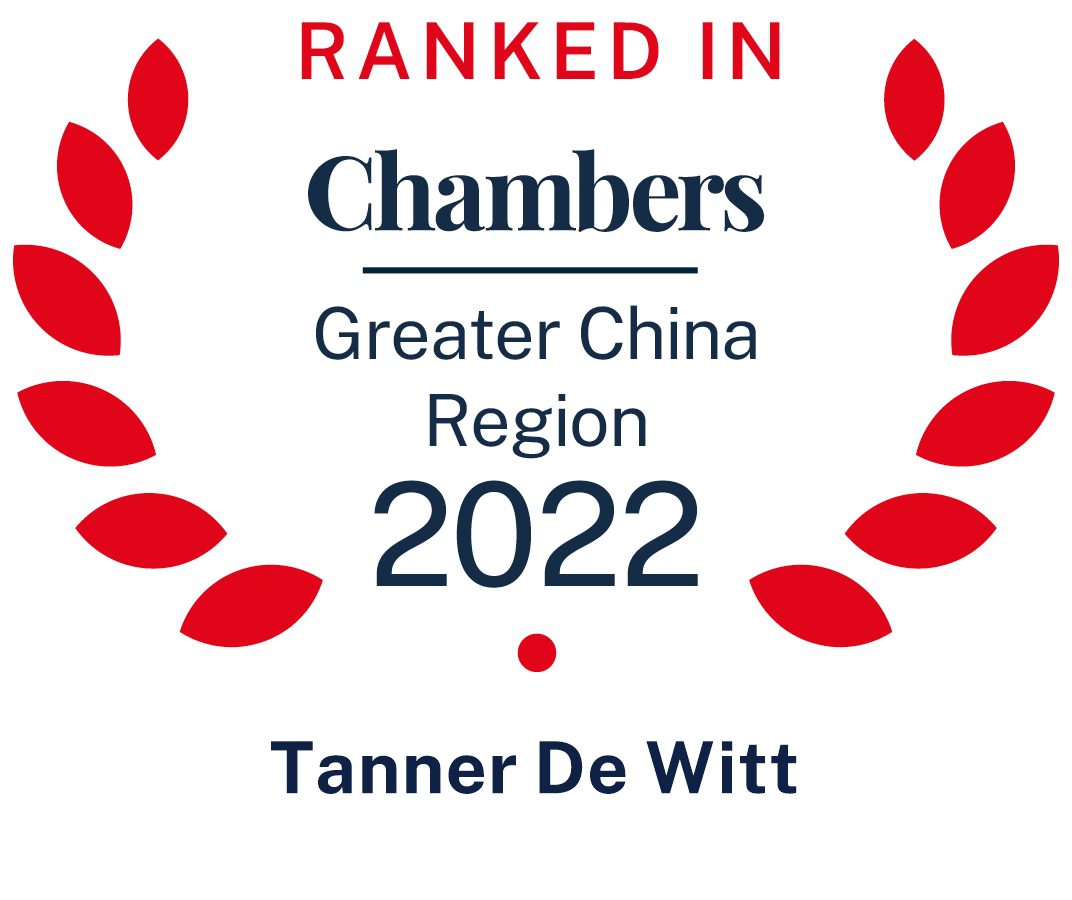 Corporate/M&A: Independent Hong Kong Firms (Band 2)
Full ranking here.
What the team is known for Covering the full range of corporate and commercial matters, including investments, joint ventures and M&A transactions, Tanner De Witt remains part of a global referral network with elite law firms, frequently handling cross-border mandates. Strong in dealing with regulatory compliance work related to corporate transactions. Additionally able to assist clients on venture capital transactions, as well as restructurings and reorganisations.
Strengths One client admires: "They were really responsive, helpful and commercially aware."
Another client is impressed by the team's "great understanding of the business context, reactivity and capacity to find solutions."
Work highlights Tanner De Witt advised April Asia Pacific, a travel insurer, on the sale of its entity to a Chinese company.
Eddie Look wins praise for his handling of cross-border M&A and private equity transactions. One client says: "Eddie Look is an extremely knowledgeable and commercial lawyer. He communicates in a very clear and concise manner, highlighting issues to be considered and their repercussions."
Edmond Leung focuses his practice on multi-jurisdictional private equity and M&A, and frequently acts on behalf of international companies and investors. He has extensive experience advising on acquisitions, divestments and corporate reorganisations. Clients find him to be "very personable, enjoyable to work with, responsive and helpful."
Tim Drew co-leads the corporate department of Tanner De Witt. He has over two decades' experience in the Hong Kong corporate market, handling all manner of cross-border corporate and transactional mandates, including M&A, disposals and shareholders' agreements.
Dispute Resolution: Litigation (International Firms) (Band 4)
Full ranking here.
What the team is known for Tanner De Witt is a respected, independent Hong Kong firm, acknowledged for its broad commercial disputes offering. Areas of expertise include professional negligence claims, shareholder disputes, debt and asset recovery, fraud, and contentious trusts and probate. Often acts for clients in the financial services sector, international investors and high net worth individuals and families.
Strengths A client is impressed that "they knew exactly the steps to take, even though my situation was completely unprecedented," adding: "We also felt that they went out of their way to ensure the best value for us for the job they had to do."
A different source reports: "They are very user-friendly, and I think their main strength is that they give common-sense legal advice and manage to keep it commercial at the same time."
A third happy client states: "My overall impression of Tanner De Witt is that they are able to give swift and practical advice to clients. They are responsive to your enquiries, serious about their work and really have your best interests at heart."
Work highlights Represented an Australian private property developer and investment firm in bringing a USD3 billion claim for wire fraud and breach of contract against a fraudster masquerading as an investment manager.
Jeff Lane is well versed in fraud claims and various tracing and recovery actions. He is also experienced with cyber-fraud claims. A client reports that "from the outset of our inquiry, Jeff Lane was responsive and clearly explained the terms of our engagement and what we could expect along the way." Another client states: "Jeff Lane and his team went above and beyond for us and I can't say enough good things about their hard work."
Mark Side is head of the firm's dispute resolution team. He is known for handling employment disputes, as well as contentious regulatory matters and white-collar crime investigations. A client asserts: "Mark is my go-to solicitor for complex Hong Kong litigation." Another source is keen to emphasise that "Mark is a strong, pragmatic commercial dispute resolution lawyer."
Pamela Mak is co-head of Tanner De Witt's China practice group in Hong Kong and often acts on contentious probate cases, as well as shareholder disputes and asset tracing and recovery. One source praises her client skills, observing: "Pamela is very good at maintaining good client relations even with a sometimes difficult client."
Richard Wilmot joined Tanner De Witt's Hong Kong office as a consultant in May 2021. He frequently acts for lenders, bondholders and investors on recovery and enforcement actions.
Employment: Hong Kong-based (International Firms) (Band 2)
What the team is known for The strong contentious employment team of Tanner De Witt possesses notable expertise representing employees in high-profile litigation cases. Active on matters involving individuals employed in Hong Kong, including supporting foreign domestic workers on a pro bono basis. Also advises employers on work policies, contracts and post-employment restrictions. Highly active on cases related to race and sex discrimination, and white-collar crime investigations.
Strengths One client appreciates its "ability to explain to laypeople the subtleties of the law and to represent us in a professional and collaborative manner."
One impressed interviewee finds the team's work to be "exhaustive and well written."
Work highlights Tanner De Witt advised a hospitality company on employee terminations and secondment arrangements.
Kim Boreham advises on a range of contentious instructions, routinely representing clients in disputes concerning terminations and employee entitlements, unpaid wages and related employee claims. One client comments: "Kim Boreham is extremely easy to speak to and brings a wealth of experience, practical and legal, to the table. Often employment-related issues are highly sensitive and Kim just has that ability to factor that into account when advising."
Russell Bennett is well placed to represent clients in disputes arising out of discrimination and harassment claims and contested terminations, with a focus on advising clients from the financial services sector. One happy client reports: "Russell Bennett has done an outstanding job," further emphasising his "good view of the overall big-picture issues."
Family/Matrimonial (International Firms) (Band 3)
What the team is known for Tanner De Witt is an independent Hong Kong practice offering advice on a range of family and matrimonial matters. Experienced in handling divorce proceedings and child-related cases. Able to assist on cross-border abduction matters, with particular expertise in cases involving the Hague Convention. Also provides support in nuptial agreements and trust arrangements.
Strengths "Tanner De Witt handle the whole range of family/matrimonial cases: financial cases to child custody, wardship and domestic violence, and everything in between," say sources, reporting: "They have strong understanding of international legal and cultural issues. They can handle international cases very well."
One client appreciates the team for "taking their time to listen, analysing very well and coming up with solutions to problems," further stating: "I feel I am in the best hands."
Joanne Brown draws widespread support from sources and is especially skilled in divorce, custody and nuptial matters. One admiring client finds her to be "empathetic, pragmatic and solution-focused."
Restructuring/Insolvency (International Firms) (Band 2)
What the team is known for Tanner De Witt fields a well-established independent Hong Kong restructuring and insolvency team that holds a strong reputation, particularly in relation to high-stakes contentious insolvency cases. Regularly handles complex domestic litigations. Clients include distressed companies and liquidators. Also able to handle cross-border Hong Kong–Mainland China restructurings, as well as non-contentious matters.
Strengths "They are all experienced practitioners and have an excellent reputation collectively and individually," commends a client.
One market observer affirms: "TDW provides quality legal service and can be counted on to provide strong support on complex transactions."
Work highlights Tanner De Witt assisted an international fashion brand with its Chapter 11 case and relevant novel matters relating to its operations in Hong Kong and Mainland China.
Ian De Witt's deep expertise spans both the advisory and contentious aspects of restructuring and insolvency-related work. He is recognised as a "good problem solver" who is "very pragmatic and commercial" by clients.
Robin Darton is a highly regarded authority on international insolvency and liquidation matters. He offers impressive expertise handling contentious and non-contentious cases for liquidators and debtors.
Padraig Walsh
,
Edmond Leung
,
Russell Bennett
,
Kevin Warburton
,
Mark Side
,
Kim Boreham
,
Latest News
,
News & Media
,
Award
,
Employment
,
Insolvency
,
Leading Lawyer
,
Corporate and Commercial Law
,
Dispute Resolution
,
Family Law
,
Divorce
,
Matrimonial Law
,
Private Client
,
Fraud
,
Criminal
,
Asset Recovery
,
Hong Kong Law Firm
,
Litigation
,
Arbitration
,
Litigation and Dispute Resolution
,
Mediation
,
Tim Drew
,
Jeff Lane
,
Eddie Look
,
Robin Darton
,
Ian De Witt
,
Pamela Mak
,
Pádraig Walsh
,
River Stone
,
Sunny Hathiramani
,
Joanne Brown