Results of 2021 Chambers Asia-Pacific Guide announced
17Dec2020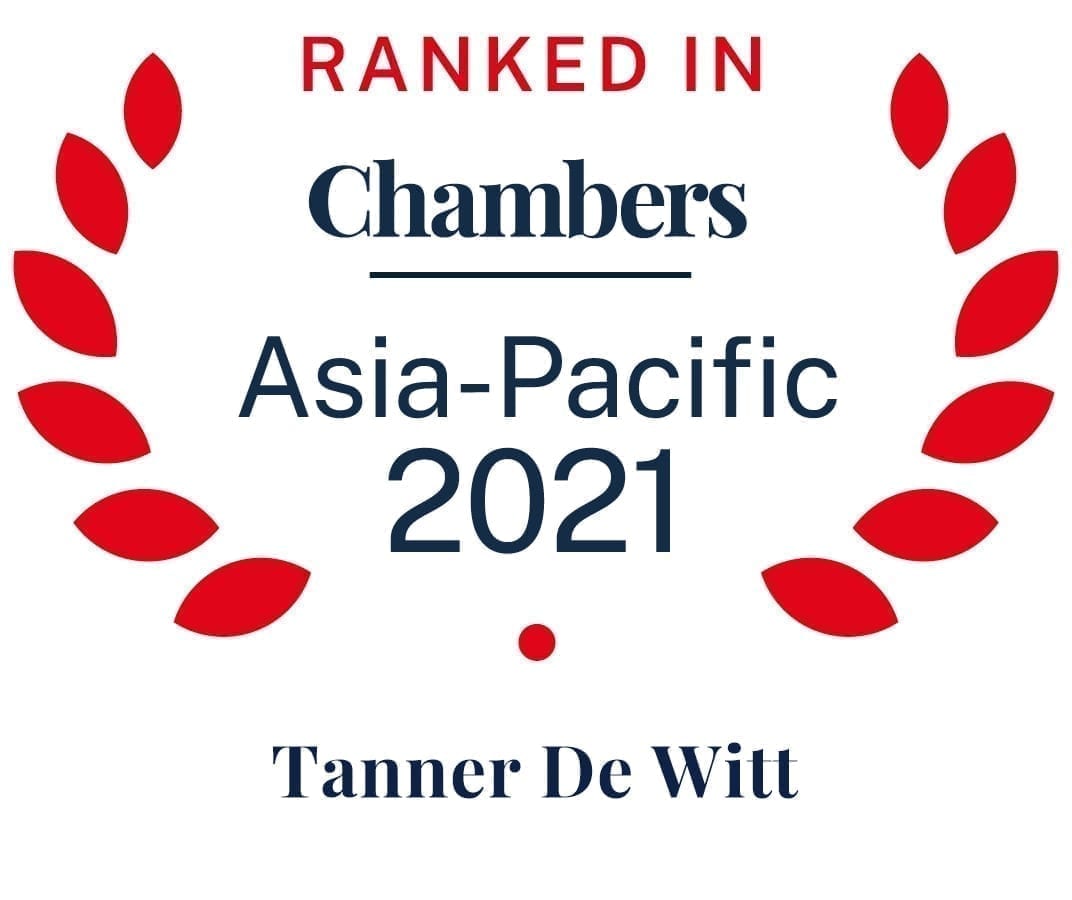 Tanner De Witt is delighted once again to be recognised by Chambers & Partners in their 2021 Asia-Pacific Guide for each of its main practice areas.
Corporate/M&A: Independent Hong Kong Firms (Band 2)
Full ranking here.
What the team is known for Covers the full range of corporate and commercial matters, including investments, joint ventures and M&A transactions. Remains part of a global referral network with elite law firms, frequently handling cross-border mandates. Strong in dealing with regulatory compliance work related to corporate transactions. Additionally able to assist clients on venture capital transactions, as well as share buy-backs, subscriptions and restructurings.
Strengths An impressed client confirms the group's reputation as "one of the best local firms in Hong Kong," explaining: "They were proactive, they pushed me when it was appropriate to do so and they were technically strong."
Another source offers further praise for the team: "They are all approachable, commercial and technically capable. They add value to their clients' businesses by drawing on their deep network of contacts, and they don't just focus on the legal aspects, they try to help their clients grow their businesses."
Work highlights Assisted Hplus Investment with its HKD5.5 million acquisition of the entire share capital of a licensed insurance brokerage firm in Hong Kong.
Eddie Look wins praise for his handling of cross-border M&A, private equity transactions and joint ventures. An impressed client reports: "He listened carefully and patiently and gave a detailed, yet easy to comprehend analysis and solution. I have no hesitation to recommend him."
Edmond Leung focuses his practice on multi-jurisdictional private equity and M&A and frequently acts on behalf of international conglomerates and foreign investors. He has extensive experience advising on acquisitions, divestments and corporate reorganisations.
Tim Drew has over two decades' experience in the Hong Kong corporate market, and is considered by one source to be a "solid, and go-to" practitioner. He handles all manner of corporate and transactional mandates, including M&A, disposals and shareholders' agreements.
Dispute Resolution: Litigation (International Firms) — China (Band 4)
Full ranking here.
What the team is known for Respected, independent Hong Kong firm, acknowledged for its broad commercial disputes offering. Areas of expertise include professional negligence claims, shareholder disputes, debt and asset recovery, fraud, and contentious trusts and probate. Often acts for clients in the financial services sector, international investors and high net worth individuals and families.
Strengths A market source comments on the team's "formidable line-up," noting that it has "extraordinary strength in depth."
Another commentator considers it a "really solid litigation house with a lot of capable operators."
Jeff Lane is well versed in fraud claims and various tracing and recovery actions. He is also experienced with cyber-fraud claims.
Mark Side is head of the firm's dispute resolution team. He is known for handling employment disputes, as well as contentious regulatory matters and white-collar crime investigations.
Pamela Mak is co-head of the firm's China practice group and wins praise from a source who describes her as a "young partner who is on the way up." She often acts on contentious probate cases, as well as shareholder disputes and asset tracing and recovery.
Robin Darton is praised by a client, who asserts that he is "really good and really knows his work," while another source notes that he is an "experienced practitioner who has been around a long time and is very solid." He is well regarded for handling disputes stemming from restructuring and insolvency, as well as shareholder disputes.
Employment: Hong Kong Law (International Firms) — China (Band 2)
Full ranking here.
What the team is known for Strong contentious employment team with notable expertise representing employees in high-profile litigation cases. Active on matters involving individuals employed in Hong Kong, including supporting foreign domestic workers on a pro bono basis. Also advises employers on the transfer of employees to and from the PRC, work policies, contracts and post-employment restrictions. Highly active on cases related to race, disability and sex discrimination, and white-collar crime investigations.
Strengths Interviewees highlight the team's work on behalf of claimants, describing the partners as "extremely good litigators" and "very fair and reasonable negotiators."
Kim Boreham is highly regarded in the market and wins praise from peers for being a "commercial" and "sensible" partner who "is practical and fights hard for clients." She advises on a range of contentious instructions, routinely representing clients in disputes concerning terminations and employee entitlements, unpaid wages and related employee claims.
Russell Bennett wins praise as an "admirable" litigator with notable experience in employment matters. He is well placed to represent clients in disputes arising out of discrimination and harassment claims and contested terminations, with a focus on advising clients from the financial services and banking sectors.
Family/Matrimonial (International Firms) — China (Band 3)
Full ranking here.
What the team is known for Growing practice offering advice on a range of family and matrimonial matters. Experienced in handling divorce proceedings and child-related cases. Able to assist on cross-border abduction matters, with particular expertise in cases involving the Hague Convention. Also provides support in nuptial agreements and trust arrangements.
Strengths The practice receives endorsement for its quality of advice and client services. "Tanner De Witt offers clear, prompt and realistic advice at all stages of a family dispute. They are responsive and sensitive to the needs and wishes of clients, and able to incorporate those concerns into real and effective relief," observes one source.
Another commentator reports: "They have very good understanding and awareness of cultural and legal issues involved in international cases."
Joanne Brown draws widespread support from peers and clients alike, with one source highlighting: "Joanne is excellent – she is focused on client needs and maintains a clear view of what can be achieved, she is a pragmatic negotiator in mediation." She is especially skilled in divorce, custody and nuptial matters.
Restructuring/Insolvency (International Firms) — China (Band 2)
Full ranking here.
What the team is known for Well-established independent Hong Kong firm with a strong reputation, particularly in relation to high-stakes contentious insolvency cases. Regularly handles complex domestic litigations. Clients include distressed companies and liquidators. Also able to handle cross-border Hong Kong–Mainland China restructurings, as well as non-contentious matters.
Strengths One source considers the team a "good outfit that works well to get deals done," while a second notes that the team is "very active in the market."
Work highlights Advised KPMG as the liquidators of the collapsed China City Construction International.
Ian De Witt is widely respected as a market leader with "a really good reputation" for complex insolvency matters. His deep expertise spans both the advisory and contentious aspects of restructuring and insolvency-related work.
Robin Darton is a highly regarded authority on international insolvency and liquidation matters. One market source describes him as "a good guy who is well respected," while a second commentator calls him "a really highly regarded insolvency practitioner."