Tanner De Witt sets firmwide record for Pro Bono Awards 2020
05Jan2021
In a stellar showing of community support, we are delighted to announce that we have won five individual awards and gained firm recognition in The Law Society of Hong Kong Pro Bono and Community Service Awards for 2020. This is the first time in the firm's history that multiple individuals have been recognised for outstanding contributions in the provision of pro bono services alongside a standalone Gold award for the firm.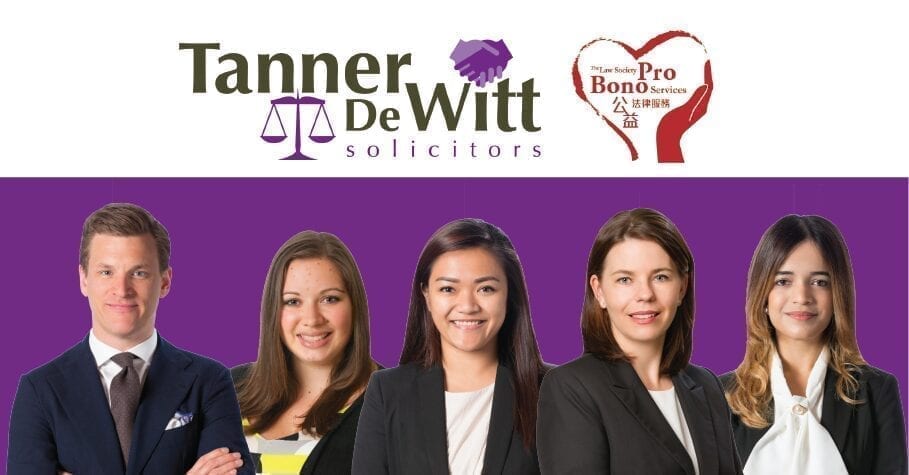 The individual awardees are as follows:
Gold Award (not less than 100 hours): Elizabeth Seymour-Jones
Elizabeth says "Access to justice is a fundamental right that is too often seen instead as a privilege. It is a privilege to have the ability to give people access to that right and to utilise my knowledge and skills for the public good."
Silver Award (not less than 50 hours): Joanne Brown and Joanne Lam
Bronze Award (not less than 20 hours): Jan Willem Möller and Sharina Mahtani
Community engagement is central to Tanner De Witt's spirit. We are committed to providing legal services to and supporting Hong Kong and international charities, groups and organisations. We are delighted to win a Gold award for our pro bono work and we thank The Law Society of Hong Kong for this honour.
About the Programme
The Law Society of Hong Kong Pro Bono and Community Work Recognition Programme 2020 is a method for The Law Society of Hong Kong to encourage law firms and members to carry out pro bono and community focused work; it was set up in January 2010. All members, trainee solicitors and registered foreign lawyers who are active in giving back are given the opportunity to present their service so they can be recognised and their work appreciated.
An online awards ceremony was held in lieu of an in-person event. You may view a recording of the event and see the full list of awardees here.
For more information about our work with community, please visit this page.