Asialaw recommends Tanner De Witt in its 2015 guide to the leading domestic law firms
26Oct2015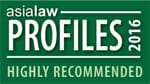 Asialaw profiles, The Guide to Asia-Pacific's Leading Domestic Law Firms has highlighted eight practice areas at Tanner De Witt: Corporate/M&A, Dispute Resolution, Insurance, Intellectual Property, Labour & Employment, Private Equity, Restructuring & Insolvency and Shipping, Maritime & Aviation. Those in bold have also been highly recommended.

Asialaw firm highlights
Tanner De Witt (TDW) was founded in 1999 by Richard Tanner, now retired, and Ian De Witt, renowned for his work in the restructuring and insolvency space. The firm is best known for its dispute resolution, labour and employment and restructuring and insolvency practices. "I am impressed with the knowledge and commercial experience of the partners and the high quality of the associates," says one client.
The firm has built a strong reputation in the restructuring and insolvency, which is co-headed by De Witt and Robin Darton. Anthony Hill is another key partner within this practice group. Clients include KPMG, PwC, Deloitte, FTI Consulting, RSM Nelson Wheeler, Briscoe Wong Ferrier, Borrelli Walsh, and Bank Julius Baer. The team is praised by a client for being both "technically strong and practical".
Eddie Look and Tim Drew are key partners in the firm's corporate practice. The team acts on behalf of local and international clients in transactions relating to M&A, joint ventures, corporate reorganisations, and investment and shareholders agreements.
As a leading independent firm in Hong Kong, TDW receives a significant amount of referral work from numerous internationally recognised firms. The firm has an expanding client base in the hospitality sector, including clients such as Eclipse Group, Shore Hospitality Group and Mr Bing.
Look led the team acting for Pylones during its 100% equity acquisition of Hong Kong-based Willtech Gift and its mainland Chinese subsidiary. He also handled Hawker Pacific Airservices' investment of US$25 million in NYSE-listed company Seacor. Hawker Pacific is a market leader in integrated civil and military aerospace sales and product support.
Drew has nearly 30 years of experience representing clients across a broad range of general corporate and commercial matters. He is particularly well experienced advising clients within the hospitality sector. He is assisting Saatchi & Saatchi Group on the reorganisation of its Hong Kong office.
Mark Side has almost 30 years of legal experience, and heads the litigation practice. In this area, the team handles a broad range of corporate and commercial matters.
The firm's growing white-collar crime practice was bolstered with the hire of Philip Swainston as a consultant. He led the team acting on a HK$600 million fraud case concerning misuse of Letters of Credit facilities by a group of commercial trading companies directed at a consortium of banks.
The firm also strengthened the practice with the hire of Jeff Lane, who has acted for a wide range of financial institutions and corporate clients, and has over 20 years of dispute resolution experience in Hong Kong.
Litigators Kim Boreham and Russell Bennett head the labour and employment department, advising on both contentious and non-contentious matters. TDW has one of the few dedicated employment departments in Hong Kong.