Veronica Chan and Natalie Lam attend the IWIRC Asia Restructuring & Insolvency Conference 2018
19Nov2018
Restructuring and Insolvency Solicitors Veronica Chan and Natalie Lam had the pleasure of attending the International Women's Insolvency & Restructuring Confederation (IWIRC)'s Asia Restructuring & Insolvency Conference, which was held in Hong Kong on Thursday 8 November.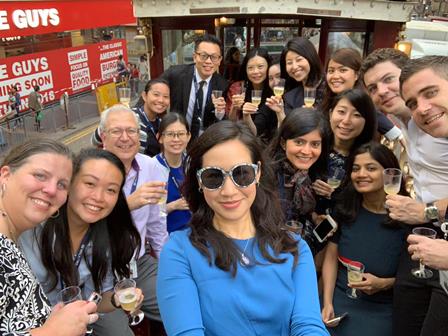 Attendees of this one-day conference attended panels on crypto-currency, leadership and forum shopping, followed by an afternoon of cultural activities. Veronica and Natalie opted to go on the Tram Tour, where guests experienced the joy of riding a tram (from the 1920s!) and taking in Hong Kong's sights and sounds.
Veronica (vice-chair of the Hong Kong Chapter of IWIRC) said, "The IWIRC Asia Restructuring & Insolvency Conference recently held in Hong Kong on 8 November 2018 was another success. Guests from around the world truly enjoyed the cosy networking on the famous 'ding ding' tram tour, seeing the sights of Hong Kong over a few glasses of bubbles."
About IWIRC
IWIRC was founded in December 1993 by Selinda Melnik, Laureen Ryan and Martha Fetner, an attorney, investment banker and commercial banker, respectively.  It is a not-for-profit professional association incorporated in May 1994 under the laws of the State of New York, USA.  IWIRC held its first meeting in London, England in June 1994.  Its first Network, Central Ohio, was chartered in June 1995.
Now in its 20th year, IWIRC has been connecting women worldwide. Through a global membership of more than 1,200 attorneys, bankers, corporate-turnaround professionals, financial advisors and other restructuring practitioners, members develop a powerful network of contacts, resources, mentors and friends. Whether it is across the café table or the continents, diverse relationships make IWIRC the premier organisation for women in the restructuring and insolvency professions.