Benchmark Litigation again ranks Tanner De Witt highly, listing twice as many practice groups as previous rankings
11May2020
Partners Ian De Witt, Robin Darton and Jeff Lane were also selected as "Litigation Stars" in dispute resolution
Tanner De Witt is delighted to be ranked Tier 1 for Insolvency, Tier 2 for Commercial and Transactions, Recommended in Private client – Domestic firms, and recognised as Notable for work done in Family and matrimonial by Benchmark Litigation. Our Insolvency department leads its peers as the only first-tier practice domestically, while our Litigation and Dispute Resolution team is one of only two Tier 2 practices.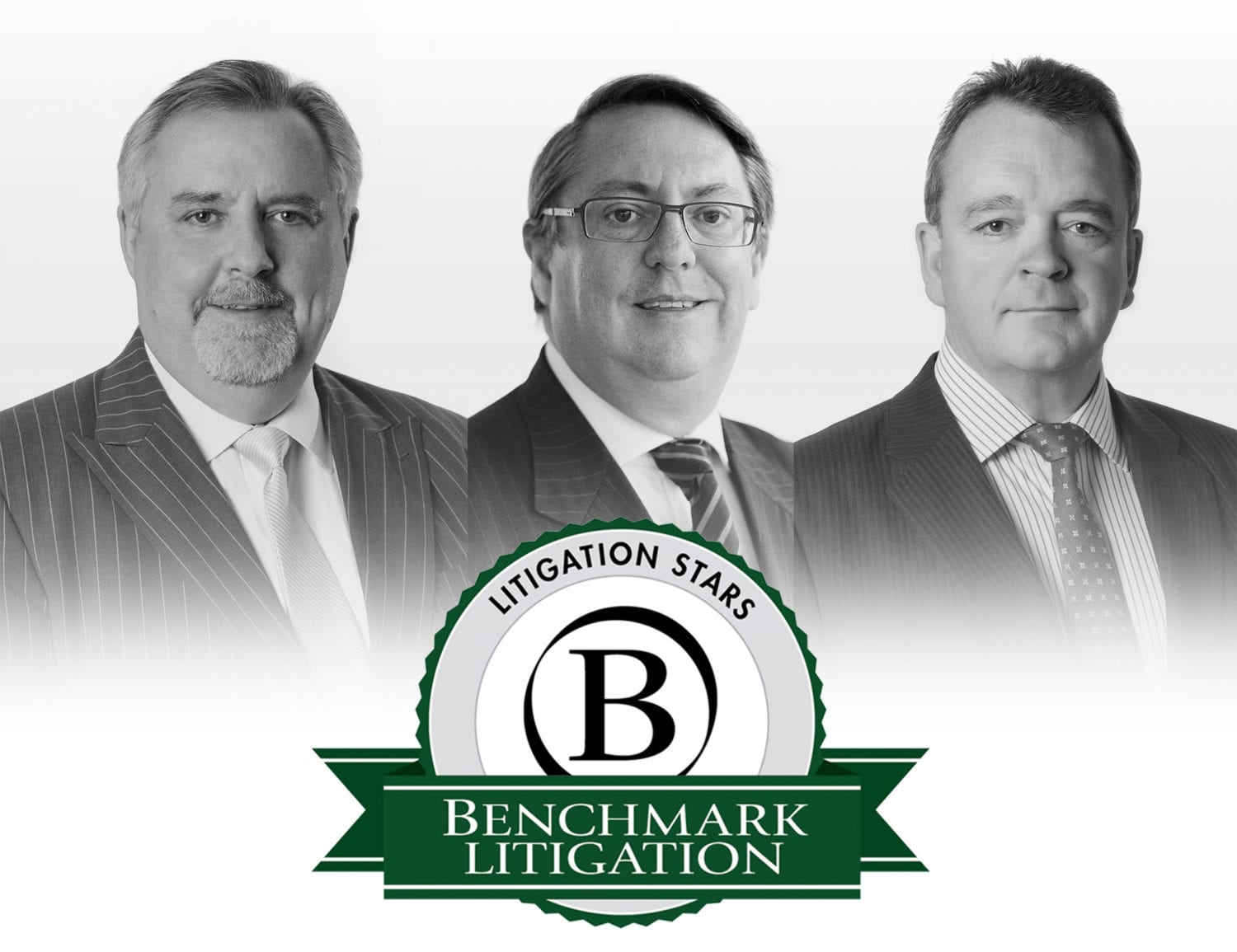 Amongst our Partners, three have gained recognition as Dispute Resolution Stars:
Insolvency and Restructuring
Tanner De Witt ranks as a Tier 1 / Band 1 law firm in the field of insolvency and restructuring in Hong Kong by leading industry publications including Legal 500 and Chambers & Partners. Our lawyers specialise in a broad spectrum of insolvency administrations, complex restructurings and bankruptcies involving global assets, with a particular emphasis on contentious and court-related issues.
While Tanner De Witt is an independent Hong Kong law firm, our Insolvency and Restructuring lawyers act for many international clients involved in multi-jurisdictional and high profile matters. We provide legal advice and representation to insolvency practitioners, creditors, directors, shareholders, private and listed companies, bondholders, and individuals facing cash flow difficulties and have experience with a wide range of specialist tribunals and professional associations.
Litigation and Dispute Resolution
Tanner De Witt's Litigation and Dispute Resolution team combines insightful and thorough legal analysis with a practical approach so we can resolve disputes promptly with minimum disruption to commercial relationships.
Our experience in commercial litigation and dispute-resolution procedures enables our lawyers to deal effectively with disputes in the various courts and tribunals of Hong Kong. We also advise on domestic and international arbitrations and conduct cases before various specialised tribunals and professional associations in Hong Kong.
Family and Matrimonial
Tanner De Witt's Family Law group advises families on divorce and associated matters in Hong Kong, often involving international considerations. For companies in the SME sector divorce of owners is frequently a major corporate event. Joanne Brown and Mark Side lead the department, with Joanne recently receiving accolades from Doyle's Guide as well.
Joanne advises on all aspects of family law including jurisdictional issues, divorce, separation, financial arrangements for spouse and children, nuptial agreements, custody and other disputes relating to children including applications to remove children from Hong Kong, paternity and adoption cases. She is a Qualified Practitioner of the Hong Kong Collaborative Law Practice Group, a qualified Parenting Coordinator, Mediator and a Committee Member of the Hong Kong Family Law Association.
Private Client – Domestic Firms
Mark's vast experience in Hong Kong law across matter and business type is key in advising within the Private Client practice. Hong Kong's hub of international activity leads to a clientele seeking a broader array of advice, service that crosses borders and generations and still understand the regulatory landscape and safety precautions necessary for not only business concerns but against criminal activity and reputation loss.
For media enquiries please email [email protected].