Asialaw 2017 rankings announced
07Nov2016
Tanner De Witt is delighted to announce Asialaw's 2017 rankings of domestic law firms which can be found here.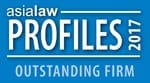 Corporate/M&A – highly recommended
Tanner De Witt's corporate practice has a strong focus on the mid-tier market and works with multinational corporations in Hong Kong and increasingly from the PRC. The firm advises on M&A, joint ventures, business sales and purchases, investment and shareholder agreements, due diligence and private-equity related transactions. Eddie Look heads up the practice and has been advising babywear retailer Bumps to Babes on its HK$60 million cash and part share swap into a China entity.
Dispute Resolution & Litigation – highly recommended
Tanner De Witt's litigation and dispute resolution practice has been active in regulatory disputes and cybercrime work in the past 12 months. The firm has also been advising on the Hong Kong aspects of large international cases. Ian De Witt is very well respected by his peers. Jeff Lane acted for Swiss businessman and art dealer Yves Bouvier in setting aside injunctions in Hong Kong in relation to the allegation of secret profit made in trading high value artwork. "Jeff Lane has a strategic approach and asset recovery expertise," says a client. "Jeff has good legal knowledge, the ability to put a strong case in court and he's very professional," says a client. "Mark Side is very personable with excellent knowledge of the jurisdiction," says a client.
Financial Services Regulatory – highly recommended
Mark Side and Russell Bennett lead Tanner De Witt's financial services regulatory practice. The firm has been advising on alternative investment products and collective investment schemes driven by a marked increase in SFC investigations and prosecutions. Edmond Leung focuses on the licensing aspects of M&A transactions while Jeff Lane has been advising on SFC investigations.
Labour & Employment – outstanding
Headed by Kim Boreham and Russell Bennett, Tanner De Witt's employment practice advises both employers and employees on contentious and non-contentious matters. The firm regularly advises employers and senior executives on the negotiation of employment contracts, termination agreements, breaches of confidentiality, privacy and discrimination claims. The firm also takes on a substantial amount of pro bono and legal aid work. "Russell offers great expertise and has a confident and calm approach to resolving issues," says one client. "They are knowledgeable and patient," says another.
Restructuring & Insolvency – outstanding
Tanner De Witt has a well-known insolvency and restructuring practice that is often instructed by international law firms and professional service firms to advise on Hong Kong-specific issues. "Ian De Witt and Robin Darton are very knowledgeable in the area of insolvency," says a client. Darton advised PRC real estate developer Kaisa Group on the restructuring of its offshore debt of more than $2.5 billion. Darton is also advising the liquidators of the Hong Kong arm of marine fuel supplier OW Bunker China on issues regarding security, cross-border insolvency and maritime law. De Witt is advising the joint and several liquidators of dry bulk carrier STX Pan Ocean on complex cross-border issues after it was wound up in August 2013.
For more information on awards won, click here.