WAGs Golf Day raises money for Hong Kong charity Sailability
02Dec2015
Partners Mark Side, Jeff Lane, Anthony Hill and Phil Swainston participated in the 2015 WAGS Charity Golf Day in Kau Sai Chau in Sai Kung on Friday 27th November to raise money for children's charity Sailability. This was the 8th annual event that selects a different charity each year. To date, the WAGS has raised in excess of HK$800,000 for charity. As one of the main supporters of this year's event we also donated several auction prizes including a case of Claret from Corney and Barrow. The Tanner De Witt team completed the 18 hole course in 3 under par – well done to the team!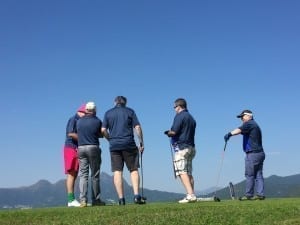 About Sailability
Sailability is a worldwide organisation but is operated independently in each and country and location. It was started some 36 years ago in the UK and spread rapidly across the USA; Australia, New Zealand, Asia & Europe.
'Sailability' provides the facility for the disabled community to have the opportunity to sail or at least, to have a water based experience. Whether the sailor wants to sail for fun or aspires to become a potential future champion – they have the facilities for everyone.
Sailability is a recognised charity and receives no regular Government funding other than a small subsidy from the Sports Council toward the expenses of one of its Para Team instructors. In all other respects, Sailability relies on local residents, corporate entities, schools and other charities to fund its activities.
For more information about our community and sporting efforts, please visit our Community page.