Tanner De Witt expands its team in Hong Kong
29Oct2015
We are delighted to announce that Anthony Marrin joined our Litigation and Dispute Resolution department in May 2015. Anthony qualified as a solicitor in Hong Kong in 2012 and previously worked at a domestic firm in their commercial litigation division. Anthony is passionate about cricket and plays for the Hong Kong Cricket Association Dragons.
Natalie Lam, Michael Choi and Thomas Rey have joined our firm's 2015 trainee programme. All three were born in Hong Kong and are native English and Cantonese speakers. Natalie Lam obtained both her Bachelor degrees from The University of Hong Kong as well as her Postgraduate Certificate in Laws. Michael Choi studied at The University of Hong Kong and studied for a semester at The University of Kent in the UK. Thomas Rey obtained his Bachelor of Law from The University of Surrey and his Master of Law from The University of Edinburgh.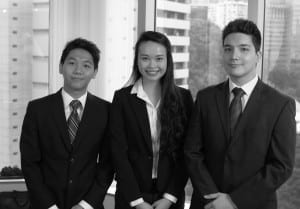 All three trainees are sport and adventure enthusiasts. Natalie plays field hockey, Michael plays rugby and Thomas is a certified scuba diver. As a firm we are not only known for having a diverse team but a team that is active in various types of sporting activity. It is important to have good work-life balance and keeping active is crucial in order to achieve this. Michael starts the trainee programme in our Litigation and Dispute Resolution department. Thomas has joined our Corporate and Commercial team and Natalie is assisting our Employment practice.
Let's extend a warm welcome to Anthony, Natalie, Michael and Thomas!
For more information on careers at Tanner De Witt please visit our Careers page.