Q&A with Sunny Hathiramani – Restructuring and Insolvency Partner
19Jan2017
Sunny has been at Tanner De Witt for seven years and was last year selected as a Next Generation Lawyer for our top tier Restructuring and Insolvency practice in Legal 500's 2017 rankings for Asia Pacific. We find out more about one of Tanner De Witt's longest serving solicitors.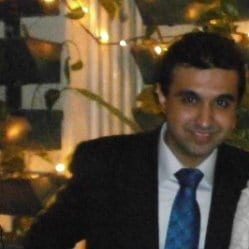 Why did you choose to become a lawyer?
To be honest, I never chose to become a lawyer. Since I was a child I wanted to be an ophthalmologist but after studying Biomedical Sciences for 3 years I decided not to pursue that career path. Law was selected by chance. A friend of mine told me that BPP Law School offered a one year graduate programme and as I wanted to stay in London I convinced my parents (the first true sign of my budding lawyer skills) that I actually wanted to become a lawyer. Approximately 2 to 3 months into my degree I realised that law affects every part of our lives, from driving a car to getting into a fight and I felt that being a lawyer would give me the necessary background and degree to help people in any situation.
Describe a typical day at work.
I usually check my email on the way to work to see if there is anything urgent I must attend to when I arrive at the office. If not, I make myself a nice Nespresso and go through my 'To-Do' list that I prepared the previous evening. My 'To-Do' list almost never goes in the order I want it to as I must attend to client calls and emails throughout the day. A working day in the life of a lawyer is fairly unpredictable and as an insolvency and restructuring lawyer, no two days are ever the same. That being said, a usual day will include drafting documents, meetings/calls with clients and/or spending time in Court.
What part of being a lawyer to you personally find most satisfying? Most challenging?
Each case is fact specific and therefore each case is a challenge. I love being able to analyse different cases and use my intellect to find a solution and act in the best interests of the client. The most satisfying aspect of being a lawyer is when my client appreciates and acknowledges the effort I have put in (especially when it is a positive outcome!).
Being a lawyer can be stressful at times, how do you maintain a good work-life balance?
Maintaining a good work-life balance is all about time management and priorities. I personally feel that I am able to prioritise important tasks and complete them prior to the deadline which allows me to leave work at a reasonable hour and enjoy some time off. Meeting friends, having a few drinks and spending quality time with family is how I de-stress.
What's the best piece of advice you have ever received during your legal career?
"Do not make work your life" is what my professor told me during my Biomedical Science studies. He stated that no matter what profession I selected, I must not let work consume me and must always make room for a personal life.
If you had not become a lawyer, what other professions would you have considered?
If I had not enjoyed my law diploma programme, I consider I may have pursued further studies in the psychiatric field.
You can find out more about Sunny here.