Joanne Brown and Elizabeth Seymour-Jones attend Pathfinders Charity Dinner
27Nov2017
On the evening of Saturday 18 November, Partner Joanne Brown and Paralegal Elizabeth Seymour-Jones donned mysterious masks to support migrant charity PathFinders at their Mardi Gras themed Anniversary Dinner.
Held every year in November, this year's dinner was an especially poignant one for the charity, as it marks ten years since PathFinders started assisting vulnerable migrant women and children. Last year, the dinner raised an incredible HK$2.6 million to help sustain Pathfinders' programmes and empower their team to serve the humanitarian, social and welfare needs of hundreds more babies, children and women.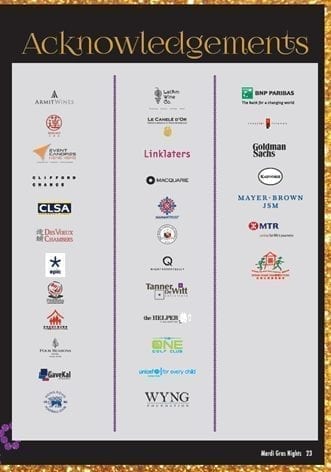 We are proud to be one of PathFinders' supporters through providing pro bono legal services. PathFinders is one of the many clients we provide pro bono services to: it is imperative to us that all members of society get fair access to legal services, regardless of their immigration status or wealth.
About PathFinders
PathFinders Limited is an independent, secular and non-partisan humanitarian services organisation with tax-exempt charitable status in Hong Kong. Since its founding in 2008, PathFinders has helped over 4,800 of Hong Kong's most vulnerable babies, children and migrant women. Over 10% of the children it has served would, but for PathFinders, have been at extreme risk of abuse, neglect, even trafficking.
For more information about our community efforts, please visit our Community page.