Asset Recovery Lawyer Jeff Lane on tracing fraud proceeds and more
29Jun2020
Below, in an interview with Who's Who Legal who ranks Jeff as a Global Elite Thought Leader for Asset Recovery in their 2020 Edition, Partner Jeff Lane answers a range of questions addressing the ever-changing methods of fraudsters as well as his background and inspirations in pursuing a legal career.
While the pandemic continues to interrupt regular work-life routines and governance we republish this timely piece along with links to several Hong Kong Government agencies. These agencies regularly publish fraud warnings and scam alerts to aid against a sharp uptick in fraudster activity. (See: References)
WWL Questions & Answers
Jeff Lane leads the Tanner De Witt fraud and asset tracing practice. He focuses on asset recovery, business crime defence, offshore disputes, international judicial assistance, the enforcement of foreign judgments and arbitration awards, and tracing the proceeds of fraud. Jeff has practised in Hong Kong for 30 years. His main activities are litigating and coordinating asset recovery proceedings on behalf of victims of economic crime, and developing strategies for the international search for and recovery of assets.
What inspired you to pursue a career in the law?
My father, who as a police officer, used to bring home tales of adventure and legal battles in the Courts of Glamorgan; and John Houseman, who immortalised the grumpy law school contracts professor in The Paper Chase.
What do you enjoy most about working at the intersection between dispute resolution and financial fraud?
The international nature of the work; the energy generated by devising strategies and working closely with international teams; and the satisfaction of affecting recoveries before the fraudsters have had an opportunity to dissipate their ill-gotten gains.
What do clients look for in a top asset recovery specialist?
Tenacity; conflict-free availability; experience; expedience; clarity; a sense of proportionality; and the ability to lead and work as a member of a team and so turn around results in a timely and cost-efficient manner. A sense of humour can also be an advantage.
In what ways has the pace of technological change affected the way in which you approach asset recovery work?
Technology impacts upon practice issues every day. In the past we would laugh at Nigerian 419 scam letters, then later marvel at the ingenuity of the fraudsters who would imitate email addresses by changing a letter or two. Now we have to deal with email accounts being hacked and fraudsters assuming the actual identity of the account holders in a manner that is almost impossible to detect before the fraud has been executed.
Just as the fraudsters' resources have improved, however, so too have the lawyers' responses. The internet is full of useful, searchable material identifying past fraudsters and their modus operandi. In the Hong Kong courts our judges are well versed in the difficulties of cybercrime, and will often grant injunctions and disclosure orders on the same day as instructions are received. Banks' response times for the production of disclosure materials has been significantly enhanced by computer technology.
The impact of technology has compelled lawyers to evolve, in order to meet and work with the new technology, but in essence the objectives are unchanged – understand the fraud; find, freeze and trace assets as quickly as possible; and share your intelligence with the police and regulatory authorities to help apprehend the wrongdoers.
How has increased enforcement activity from regulatory authorities around the world impacted client demands over the past few years?
Not enough. While regulators in the Americas and parts of Europe have imposed significant fines on recalcitrant international banks that do not manage their AML responsibilities, the banks in Hong Kong remain resistant to the need to make risk assessments of the information they collect. This means that circumstances that would trigger red flags in other jurisdictions often remain unnoticed in Hong Kong, thereby making it an attractive jurisdiction for would-be money launderers.
The impact of overseas regulators has increased client expectations of what might be achieved by litigating against banks in Hong Kong. The reality remains, however, that notwithstanding the banks' more relaxed attitude to AML issues, the courts in Hong Kong have not yet held a bank liable as third-party tortfeasors in any of the many cases of internet fraud that pass through the courts each day.
What is the greatest challenge currently facing asset recovery lawyers?
Maintaining pace with technology to ensure that the fraudsters do not get too far ahead of the pack of chasing lawyers.
You are the Hong Kong member of ICC FraudNet. How important are such networks for the tracing, freezing and recovery of assets?
The ICC FraudNet group is an essential part of my practice. Each FraudNet member is an accomplished asset recovery practitioner in his or her own jurisdiction, and most are from smaller firms, meaning that conflicts are very quickly cleared. The net result is that in instances of multi-jurisdictional recovery matters we can very quickly assemble a world-class, rapid-response asset recovery team to deal with the issue. For smaller matters, such as when assets leave my jurisdiction, I take great comfort from the knowledge that any client I pass within the FraudNet group will be looked after in the same manner as I treat my own clients.
What is the best piece of career advice you have received?
No preparation time is ever wasted, and you can never over-prepare for any court appearance. And always retaliate first.
About Jeff Lane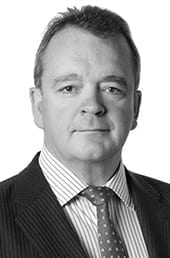 Jeff conducts a strong commercial litigation practice with a focus on domestic and complex multi-jurisdictional financial fraud disputes and asset tracing. He is Hong Kong's go-to specialist in the growing area of cyber fraud.
Jeff has practiced in Hong Kong for thirty years and is the sole Hong Kong representative of FraudNet, the international network of specialist fraud practitioners established by the International Chamber of Commerce, which is recognised by Chambers and Partners. FraudNet is an international network of independent lawyers who are the leading civil asset recovery specialists in each country.
For more information about Jeff Lane, please view his profile.
---
References
Hong Kong Anti-Deception Coordination Centre
Hong Kong Monetary Authority: Beware of Fraudsters!
The Law Society of Hong Kong: Scam Alert
GovHK Information Security & Anti Spam
GovCERT.HK Security Alerts
Disclaimer: This publication is general in nature and is not intended to constitute legal advice. You should seek professional advice before taking any action in relation to the matters dealt with in this publication.