Announcement of Hong Kong Rugby Sevens Draw 2017
14Mar2017
Tanner De Witt's Mark Side, Kim Boreham and Jeff Lane joined HKRU's Hong Kong Sevens Draw last night held at Sky Bar in Causeway Bay. Ms Christine Loh, Under Secretary for the Environment and Mr Yeung Tak Keung, Sports Commissioner, for the Hong Kong Government, officiated the draw.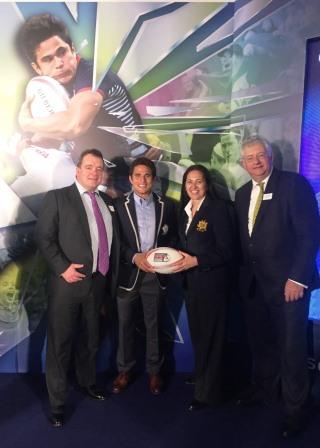 The 2017 Cathay Pacific/HSBC Hong Kong Sevens tournament will feature 70 men's matches and for the first time ever, the semi-finals of the Women's Sevens Series Qualifier will be played in the Hong Kong Stadium, alongside the Cup Final, which has been played in the stadium since 1998, for a total of 73 matches across the weekend.
Tanner De Witt's Rowan Varty, who will represent Hong Kong in this year's Hong Kong Sevens, was also in attendance.
 The full draw can be viewed here.