Tanner De Witt's community involvement featured in SCMP
10Apr2017
Variety is the spice of life
Skyfall actor Javier Bardem represented Spain's national under-21s as a flanker and a prop forward and once opined: "I've always said that playing rugby in Spain is like being a bullfighter in Japan."
A quick wander around the water cooler – or Sevens box – of Tanner De Witt reveals a staff that would not bat an eye lid at this notion. In fact, they'd simply smile and ask "How so?".
They have a veritable league of nations in their hires, from Italian, French, Nepalese, Canadian, local and mainland Chinese, Dutch, English, Kiwis and Aussies, as well as Hong Kong player Rowan Varty (who is a half Macanese and English).
However, he's not the only serious rugby player in the firm: partner Kim Boreham (who plays forward) represented Hong Kong in Kazakhstan the week after she joined the firm. She is also a director at the HKRU.
Apart from such diversity, many years ago TDW partners decided the bottom line wasn't the only thing that mattered, being part of the entire community did.
Says Welshman and partner Ian De Witt: "Along with arts from Agatha Christie to the Christmas pantomime, we like to mix it up. TDW supports the mini rugby in Hong Kong, women's rugby initiatives in the off-pitch sphere, and there's the Christina Noble Charity Long Lunch to the Fat Boy Tens."
This is taking diversity to the Nth degree; juxtaposing elegant and well-groomed women dining at a five-star hotel to the other end of the spectrum with the Fat Boy Tens.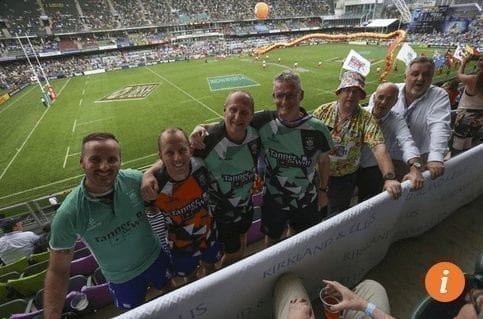 It was no surprise that a few refs turned up in their box. Following the adage that you can't applaud a referee, Tanner De Witt prefers to be low-key about the help they give. With a shrug of the shoulders, De Witt says: "Life's too short to not give to good causes."
See full article from Robby Nimmo here.