Tanner De Witt supports INSOL Hong Kong 2020 webinars as Main Sponsor
12Oct2020
Tanner De Witt is delighted to support INSOL's 2020 series of Hong Kong webinars as Main Sponsor alongside boutique accounting firm Perun Consultants.
The webinars, which take place this week, are structured in three hour-long sessions. The topics are:
Practical challenges arising from the crisis,
Strategies and trends in the current environment, and
Navigating SMEs through the crisis.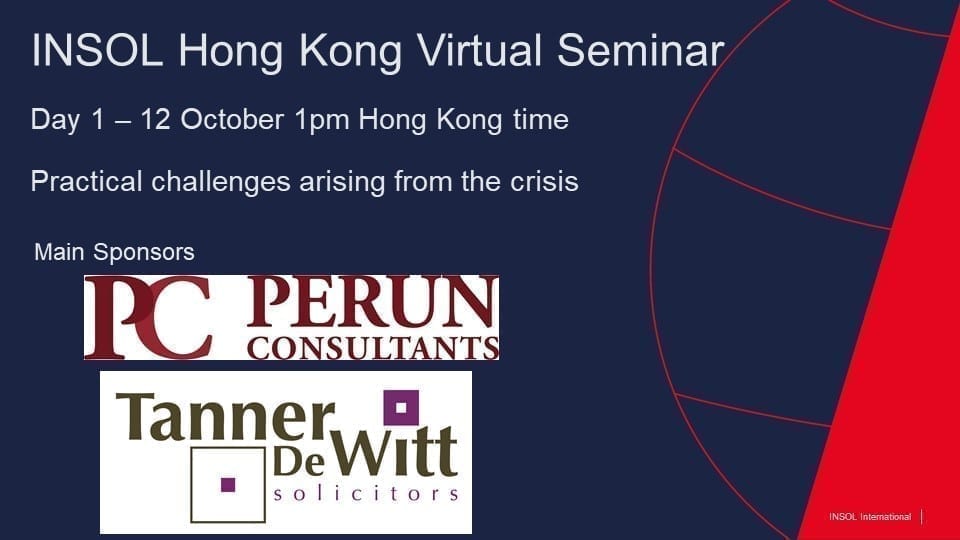 The first webinar on practical challenges took place today and featured Partner Ian De Witt alongside Theron Alldis of SC Lowy, Tiffany Wong of Alvarez & Marsal and Howard Lam of Latham & Watkins. Maples' Aisling Dwyer moderated, and EY's Sammy Koo gave the welcome remarks.
Despite the lack of physical events, Tanner De Witt is delighted to have the opportunity to support INSOL and the local insolvency community in offering this series of informative and educational webinars. We look forward to engaging with more members of the community and continuing to connect with fellow industry professionals.
Please click here to learn more about our Restructuring & Insolvency practice.