Tanner De Witt hosts C5's Fraud, Asset Tracing & Recovery Asia Conference networking event 23 June 2015, Hong Kong
20Jul2015
Tanner De Witt was pleased to host a networking party for the attendees of C5's Fraud, Asset Tracing & Recovery Asia that was hosted at The InterContinental Grand Stanford Hotel, Hong Kong last month. The conference covered topics including Innovative Strategies, Novel Tactics and Cutting Edge Recovery Methods in an Era of Global Fraud.
Tanner De Witt's fraud specialist Partner Jeff Lane co-chaired day one of the conference alongside Robert Hunter of Herbert Smith Freehills LLP.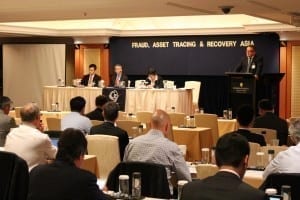 About the Conference
With billions in illicit funds flowing out of China and other countries in Asia, tracing the proceeds of fraud and corruption is becoming increasingly important for Governments and businesses alike. As funds are hidden in increasingly complex locations and structures, practitioners from all corners of the globe are being instructed by clients, to gather evidence and trace and recover assets.
The complexity associated with tracing and recovering assets arising from frauds in Asia, coupled with the challenges in enforcing foreign awards, means that practitioners need to be fully versed in the legal developments, tactics and strategies to achieve results for their clients.
Fraud, Asset Tracing and Recovery opportunities are increasing in Asia – Do you have the expertise and contacts in the area needed to capitalise?
Building on C5's unrivalled reputation in Civil Fraud events, Fraud, Asset Tracing and Recovery Asia will bring together the leading lawyers, regulatory experts and forensic accountants to share their experiences and make lasting business relationships in this exciting region. In addition to extensive coverage of how the key legal challenges can be addressed, our expert faculty will provide you with examples of solutions and strategies that will help you build your plan for fraud litigation, monitor increased fraud activity and benefit from the array of opportunities available.
Tanner De Witt Partners Jeff Lane and Mark Side were recently featured in Lawyer Monthly, talking about fraud and asset tracing.
For further information, please contact us.