Tanner De Witt attends Cathay Pacific/HSBC Hong Kong Sevens Official Draw 2018
13Mar2018
We had the pleasure of attending and participating in the Cathay Pacific/HSBC Hong Kong Sevens Official Draw 2018 at Hysan Place in Causeway Bay yesterday. Three separate draws were held: for the World Rugby Women's Sevens Series Qualifier, the World Rugby Sevens Series Qualifier and the HSBC World Rugby Sevens Series itself.
This year's Cathay Pacific/HSBC Hong Kong Sevens is seventh in a ten-event series that features 16 Series teams from all over the globe.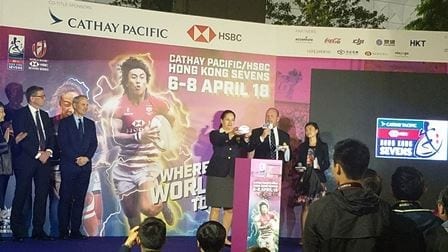 Participating guests officiating Monday's draws included Mr Yeung Tak Keung, Sports Commissioner for the Hong Kong Government and Mr Paul Cheung, Principle Assistant Secretary for Home Affairs (Recreation and Sport); Mr David Morton, Head of Corporate, Financials and Multinationals Banking, Asia-Pacific of co-title sponsor HSBC; and Mr Simon Large, Director Customer of Cathay Pacific Airways, co-title sponsors of the Cathay Pacific/HSBC Hong Kong Sevens; and Ms Irene Lee, Chairman of Hysan Development. Our very own Kim Boreham, Employment Partner and Director of Women's Rugby for Hong Kong Rugby Union, also joined the draw.
For more information about our community and sporting efforts, please visit our Community page.