Russell Bennett speaks at German Chamber of Commerce – March 2017
16Mar2017
Tanner De Witt Partner Russell Bennett spoke to a group of SME business owners and professionals on Tuesday 14 March at the German Chamber of Commerce in Hong Kong.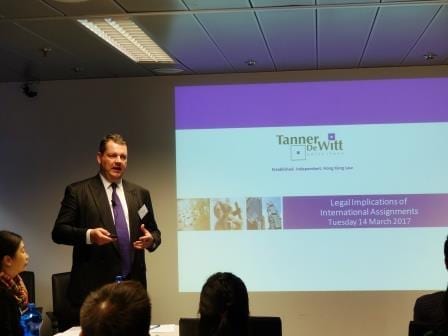 Russell's talk entitled Legal Implications of International Assignments covered important topics for expatriates working in Hong Kong such as immigration, overseas transfers, taxation and remuneration packages.
Russell Bennett is best known for advising employees and employers in the financial sector on major employment disputes. He is described by one peer as "very commercial and sensible. If he's on your side, you know things can be resolved."
Chambers and Partners Asia Pacific 2017
About Russell Bennett
Russell is a highly ranked employment lawyer in Hong Kong acting for employers and employees in all matters relating to employment law as well as dealing with dispute resolution and commercial litigation and regulatory advice.
Russell has extensive experience in acting for both employers and employees, with particular emphasis on high-value employment disputes in the financial sector. He advises on all aspects of employment law, termination entitlements, post-termination restrictions, bonuses, discrimination, drafting employment contracts, handbooks and other HR related documentation as well as immigration, health and safety and related criminal matters/prosecutions.
Russell also spent several years as regional in house counsel with a major international brokerage. He focused primarily on dealing with the restructuring of their employment practices, documentation and structures and resolving disputes and issues throughout Asia Pacific. In addition, Russell oversaw the legal aspects of HR management and certain regulatory functions.
For information about our Employment Practice, click here.