Q&A with Peter Tang – Corporate and Commercial Lawyer
04Dec2017
Originally from Ningbo, Zhejiang Province, Peter joined Tanner De Witt only one month ago after completing his traineeship at another Hong Kong law firm.  He obtained his Bachelor of Laws and Postgraduate Certificate in Laws from City University Hong Kong. Peter currently assists our Corporate and Commercial practice and he is also a member of our China Practice Group.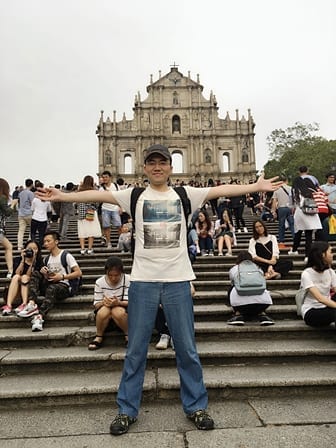 Why did you choose to become a lawyer?
When I was in middle school in mainland China, law wasn't something I had in mind as potential career, let alone practicing law in Hong Kong. But then I came across some legal dramas, such as TVB's The Files of Justice. After watching these dramas, the life of a lawyer attracted me. I discussed it with my parents, and I decided to come to Hong Kong to study law at university. That's how my legal career  began.
Describe a typical day at work.
To be honest, every day can be different as your tasks are entirely dependent on the amount and the type of work instructed by the client. I usually start a new day by checking emails and scheduling tasks according to my diary. After that you may find me working on agreements, drafting letters, doing research, conferencing with clients or discussing cases with colleagues. Such diversity is also one of the things I enjoy in this job.
What part of being a lawyer do you personally find most satisfying? Most challenging?
Lawyers' work can be very challenging – both mentally and physically. You will face situations where you have to make fast decisions and no mistakes are allowed; you will also be required to be a quick learner and be able to understand and apply legal principles unfamiliar to you a few hours ago. You will also have to stay up until very late when necessary.
The most satisfying (and wonderful) moment of being a lawyer must be  the moment your client's problems are solved and there is a big smile on his/her face. This is when you know all your effort and hard work has paid off.
Being a lawyer can be stressful at times, how do you maintain a good work-life balance?
I go to the gym regularly so that I will have the physical strength to go through stressful times. When I am off work I like to hang out with friends and spend some time with my family. I think it is a very important skill as a lawyer to prioritize and schedule so as to reduce your chances of being in difficult situations.
What's the best piece of advice you have ever received during your legal career?
"Be more than a lawyer and have commercial sense."
I am a corporate lawyer who advises lay clients. They may have little knowledge of the law but may be geniuses in commerce, and they are expecting pieces of advice that make commercial sense. Obtain some financial knowledge and learn what the client wants. The strict, black-and-white way to apply law that we learned in school is far from enough for good advice in real practice.
If you had not become a lawyer, what other professions would you have considered?
I may have become a musician or a guitarist. I am interested in guitar (both electric and acoustic) and may have gone into music study if I didn't do law.
You can find out more about Peter here.