Jeff Lane and Ian De Witt featured in Who's Who Asset Recovery Guide 2017
31Jul2017
Tanner De Witt Partner Jeff Lane was recently selected to participate in a round table feature in Who's Who Legal: Asset Recovery 2017 alongside three other leading experts to discuss legal developments and concerns observed across the global community of lawyers who specialise in asset recovery.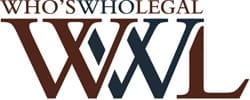 In the Asset Recovery 2017: Analysis section of this year's guide, Who's Who selects 532 lawyers from 250 firms from around 85 jurisdictions as leading experts in asset recovery. Jeff has been named one of the Asia-Pacific region's most highly regarded lawyers who specialise in Asset Recovery by the Who's Who Legal: Asset Recovery 2017. The publication's peer-to-peer research shows that Jeff is an internationally renowned specialist who is deemed to be in "the top echelon of specialists worldwide". He regularly advises on both domestic and cross-border financial fraud disputes. Moreover, Partner Ian De Witt was mentioned in this edition of Who's Who Legal. Ian De Witt is a "prominent commercial disputes and insolvency specialist" who boasts "extensive experience in asset tracing and enforcement".
Jeff Lane is well-known for his expertise in dealing with highly complex multi-jurisdictional corporate fraud and asset tracing investigations. He has represented several clients at inquiries with Hong Kong's Securities and Future Commission (SFC), Independent Commission against Corruption (ICAC) and Commercial Crime Bureau (CCB). Jeff has had regular experience working on Insider Dealing and Tribunal matters. Jeff has been part of the team at Tanner De Witt since 2013. Prior to moving to TDW he worked for an international law firm specialising in Litigation and Dispute Resolution. Jeff is currently the only representative for FraudNet in Hong Kong.
Ian De Witt qualified in England & Wales as a solicitor and moved to Hong Kong in 1996 where he co-founded Tanner De Witt. His key practice focus is Insolvency and Restructuring and he is also an accredited mediator. Ian is consistently ranked as a 'Leading Lawyer' in high profile legal publications such as Asia-Pacific Legal 500 and Chambers & Partners Asia Edition.
About Tanner De Witt
Tanner De Witt is an established and recommended independent law firm in Hong Kong. Our firm and lawyers, many of whom have international law firm backgrounds, receive top ratings from industry publications such as Chambers and Partners and Legal 500.
Our primary focus is business law in Asia. We provide legal advice and representation in the following areas: Corporate and Commercial; Litigation and Dispute Resolution; Insolvency and Restructuring; Employment; Immigration; Family and Private Client; Wills and Trusts; Financial Services Regulatory; Hospitality including Liquor Licensing; White Collar Crime and Criminal.
For further information, please contact us.