Ian De Witt sits on panel at 3rd Regional Insolvency Conference in Singapore
19Sep2016
Tanner De Witt Restructuring and Insolvency Partner Ian De Witt sat on the second plenary session panel "Common Law Perspectives of Cross-Border Insolvency" on the second day of the 3rd Regional Insolvency Conference held at The Fullerton Hotel in Singapore on Friday 16 September 2016 alongside Peter Greaves (Partner, PwC Singapore), David Maund (ANZ Singapore) and Antony Zacaroli QC (Barrister, South Square ,United Kingdom).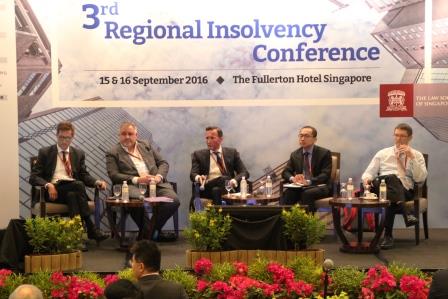 This conference is the flagship insolvency conference in Singapore bringing together today's leading legal, accounting, and financial practitioners, with esteemed panellists comprising members of the judiciary, accounting, legal and banking professions.
About the Conference
As we head into a global economic downturn, businesses around the region are increasingly exposed to cross-border insolvency risk. With amendments to Singapore's insolvency legislation in sight, and as Singapore looks, for one, to the adoption of the UNCITRAL Model Law on Cross-Border Insolvency, the practice of insolvency has become most relevant to the economy today. What are the various perspectives on cross-border insolvency? How is one to navigate the changing landscape of international restructuring and insolvency? How does one meet the challenges of these exciting times of change and turmoil? The 3rd Regional Insolvency Conference provides the platform for exploring difficult questions of dispute resolution and litigation funding, financing international restructuring, and changes to the laws and perspectives on cross-border insolvency.
Some of the issues to be discussed at the Conference include:
The Role of the Judiciary in Cross-Border Insolvency (via a Judicial Colloquium)
Civil Law Perspectives on Cross-Border Insolvency (E.g. Continental Europe, Indonesia and China)
Common Law Perspectives on Cross-Border Insolvency (E.g. Australia, Singapore, Malaysia and India)
Dispute Resolution and Litigation Funding in the Face of Insolvency
Financing and Effective Successful Restructuring
Singapore as an International Centre for Debt Restructuring
About Ian De Witt
Co-head of Restructuring and Insolvency at Hong Kong law firm Tanner De Witt, Ian is a highly ranked and awarded insolvency lawyer and litigator. He has almost three decades' experience within the field having worked in both London and Hong Kong firms. Ian acts for liquidators, receivers, creditors and directors in a variety of insolvency and restructuring cases including acting for the liquidators in the well-documented Oasis Airlines insolvency and acting as lead counsel for the liquidators of the ongoing and complex multi-jurisdictional insolvency of Korean marine transportation company STX Pan Ocean (Hong Kong) Co.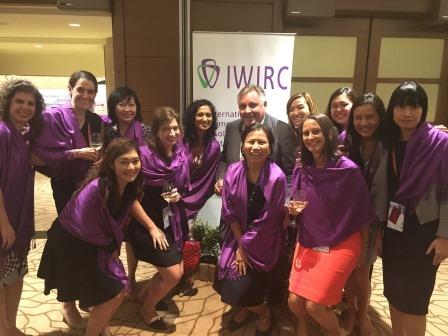 Ian sits on the Insolvency Committee for the Law Society of Hong Kong, the technical and editorial committee of the Restructuring and Insolvency Faculty of Hong Kong Institute of Certified Public Accountants and is a member of INSOL and the Turnaround Management Association (TMA).
Ian is consistently ranked as a leading lawyer for restructuring and insolvency in Hong Kong by various industry publications including Chambers Asia 2016 (Band 1), Asia Pacific Legal 500 2016 (Tier 1), IFLR1000 and Who's Who Legal. "He is held in high esteem by peers, who frequently mention him as a leading expert on insolvency matters", Chambers and Partners 2016.