Ian De Witt and Jeff Lane featured in Who's Who Litigation Guide 2018
13Feb2019
We are delighted to announce that Partners Ian De Witt and Jeff Lane have been included in Who's Who Legal's Litigation Guide 2018. This list of the world's top litigation practitioners only includes twenty-three lawyers from Hong Kong, so we are extremely pleased that two of them are from Tanner De Witt. In addition to their litigation rankings, Ian and Jeff are also listed in Who's Who's Asset Recovery Guide 2018 as Expert and Thought Leader respectively.
A number of Partners are ranked as Experts or Thought Leaders in Who's Who 2018:
Ian De Witt
Expert in Asset Recovery, Restructuring & Insolvency and Litigation
Robin Darton
Expert in Asset Recovery and Restructuring & Insolvency

Kim Boreham
Expert in Labour & Employment

Russell Bennett
Expert in Labour & Employment
Jeff Lane
Thought Leader for Asset Recovery and Expert in Litigation
Lawyers are selected for the rankings based upon a comprehensive, independent survey with both general counsel and private practice lawyers worldwide. Only specialists who have met independent international research criteria are listed.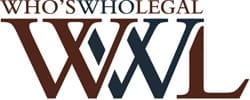 Jeff Lane specialises in commercial fraud litigation and heads the Fraud and Asset Tracing practice. Jeff regularly assists clients with domestic and cross-border financial fraud disputes and asset tracing matters, and is sought out for his expertise in issues relating to cyber fraud. He is recognised as a 'Leading Lawyer' by a number of respected international legal directories. Chambers Asia Pacific 2018 describes him as "a pretty impressive litigator who "responds to requests very quickly" and is deemed to be in "the top echelon of specialists worldwide" (Who's Who Legal).
Ian De Witt is a veteran in insolvency matters and contentious litigation matters, from debt recovery to pre-emptive actions. As Co-Head of the Restructuring and Insolvency practice, Ian has acted in a number of high-profile matters, from the liquidation of an airline to the landmark case on financial adviser negligence. He sits on a number of advisory committees, including the Insolvency Committee for the Law Society of Hong Kong and the technical and editorial committee of the Restructuring and Insolvency Faculty of Hong Kong Institute of Certified Public Accountants. Ian is consistently ranked as a 'Leading Lawyer' in high profile legal publications, and he is described as the "best insolvency lawyer in Hong Kong" (Chambers Asia Pacific 2018).
About Tanner De Witt
Tanner De Witt is an established and recommended independent law firm in Hong Kong. Our firm and lawyers, many of whom have international law firm backgrounds, receive top ratings from industry publications such as Chambers and Partners and Legal 500.
Our primary focus is business law in Asia. We provide legal advice and representation in the following areas: Corporate and Commercial; Litigation and Dispute Resolution; Insolvency and Restructuring; Employment; Immigration; Family and Private Client; Wills and Trusts; Financial Services Regulatory; Hospitality including Liquor Licensing; White Collar Crime and Criminal.
For further information, please contact us.