TMA Race Night – Wednesday 20 April at Happy Valley Racecourse
15Apr2016
The Hong Kong Chapter of TMA (Turnaround Management Association) will hold a Race Night on Wednesday 20 April at Happy Valley Racecourse. This event is jointly sponsored by Tanner De Witt and Mayer Brown JSM. Find out more here.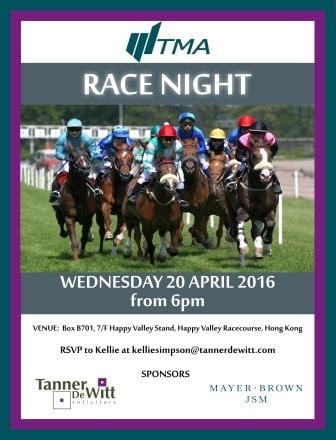 Event date: Wednesday 20 April
Time: 6pm
Venue: Happy Valley Racecourse
To book, contact Kellie Simpson on kelliesimpson@tannerdewitt.com or call 2573 5000. Spaces are limited to current members who have renewed for 2016 membership. To renew your membership, please contact Lizzie Fraser at lizziefraser@tannerdewitt.com. Find out more here.