Tanner De Witt's Jeff Lane gives fraud talk to In-House Counsel of the HKCCA
05Jul2016
Jeff Lane, fraud specialist at Tanner De Witt today gave a talk held at the Canadian Chamber of Commerce to in-house counsel members of HKCCA, Hong Kong's only non-profit association of in-house counsel run for in-house counsel by in-house counsel (Hong Kong Corporate Counsel Association).
Jeff's talks covered important aspects of fast growing internet fraud including the three R's: Recognition/Reaction/Resolution.
Topic Overview
In the last 10 years internet fraud has become a feature of everyday business practice.  The bare faced cheek of the confidential trickster of yesteryear has now been replaced with the insidious skills of the boiler house fraud, internet identify theft and CEO fraud.  The purpose of this discussion will be to help you to identify circumstances in which such fraud may arise, the appropriate way in which to respond and should it be necessary, how, as a victim, to initiate to effect a meaningful recovery strategy.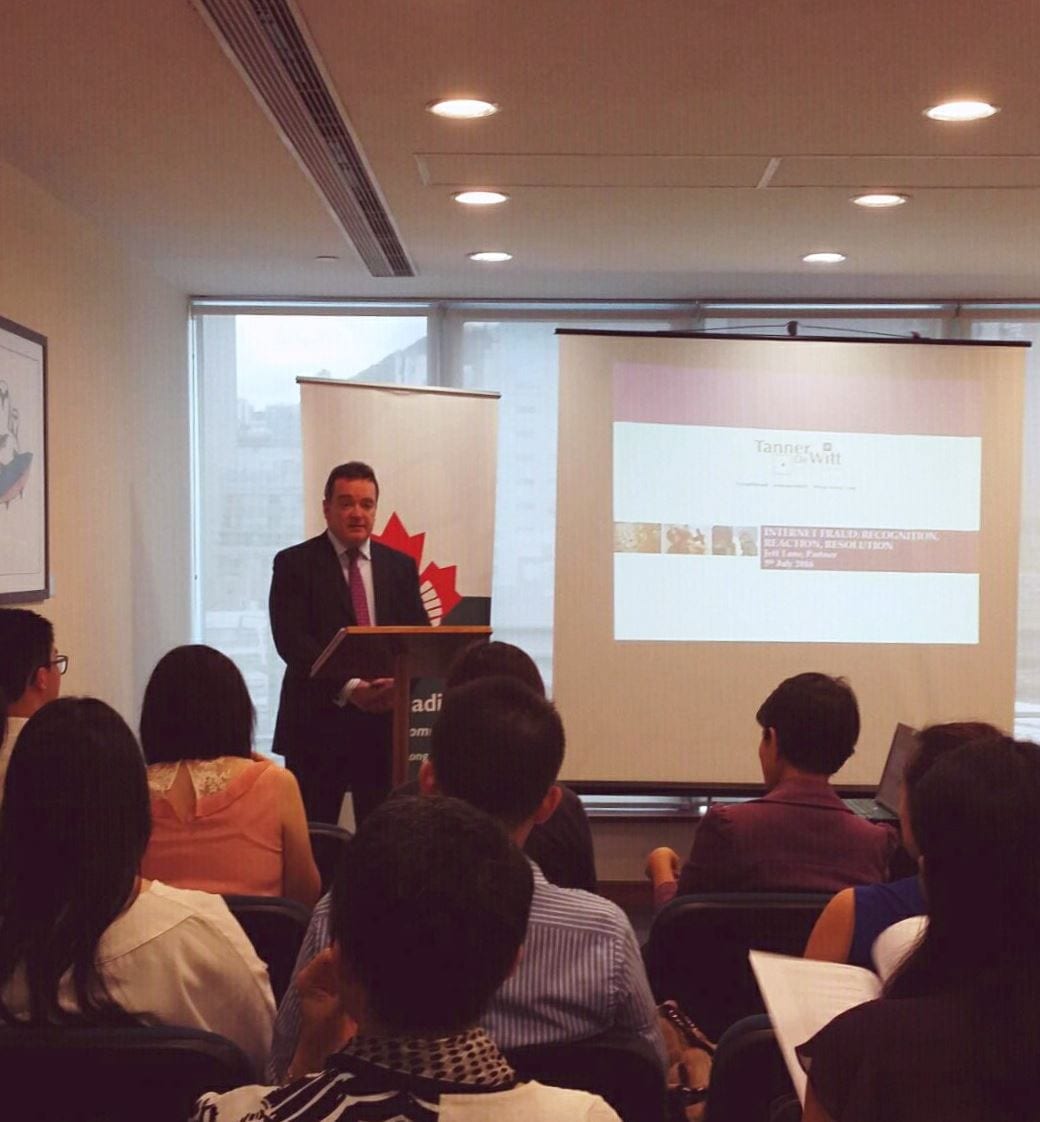 About Jeff Lane
Jeff conducts a strong commercial litigation practice with a focus on domestic and complex multi-jurisdictional financial fraud disputes and asset tracing and is Hong Kong's go-to specialist in the growing area of cyber fraud.
Jeff has practiced in Hong Kong for twenty seven years and is the sole Hong Kong representative of FraudNet, the international network of specialist fraud practitioners established by the International Chamber of Commerce. FraudNet is an international network of independent lawyers who are the leading civil asset recovery specialists in each country.
Jeff has significant experience of inquiries by  Hong Kong's Securities and Future Commission (SFC), Independent Commission Against Corruption (ICAC) and Commercial Crime Bureau (CCB). Jeff regularly deals with Insider Dealing Tribunal matters. Jeff also conducts arbitrations and mediation.
For enquiries regarding speaking opportunities to our lawyers or speaking opportunities for our lawyers to external organisations, please contact us.