Tanner De Witt supports UNICEF and attends 30th anniversary closing ceremony and cocktail reception
26Jan2017
Tanner De Witt founding partner Ian De Witt was invited to attend the UNICEF 30th Anniversary Closing Ceremony and Cocktail Reception held at the Ballroom of the Government House in Hong Kong on Friday 20 January 2017.
The event was a chance for UNICEF to present prizes to its corporate leaders, supporting organizations and event volunteers for their participation in the UNICEF Charity Run 2016 and other activities throughout the year.
We are proud to provide pro bono legal services to UNICEF, one of the world's best known charitable organisations that raises money for children in need.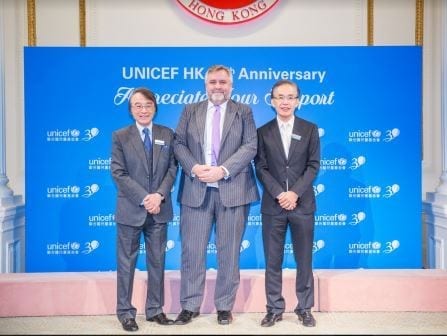 Tanner De Witt entered 6 runners in the UNICEF 2016 race which was postponed to Sunday 19 March  2017 due to inclement weather in November 2016. The event will take place at Disneyland on Lantau Island and we will update you on our performance in March.
About UNICEF
UNICEF is a leading humanitarian and development agency working globally for the rights of every child. Child rights begin with safe shelter, nutrition, protection from disaster and conflict and traverse the life cycle: pre-natal care for healthy births, clean water and sanitation, health care and education.
UNICEF has spent nearly 70 years working to improve the lives of children and their families. Working with and for children through adolescence and into adulthood requires a global presence whose goal is to produce results and monitor their effects. UNICEF also lobbies and partners with leaders, thinkers and policy makers to help all children realise their rights — especially the most disadvantaged.
Hong Kong Committee for UNICEF (UNICEF HK) was founded in 1986 and was established as an independent local non-government organisation to raise funds through public donations, partnerships with companies, special events, etc. to support UNICEF's work. UNICEF HK also promotes and advocates for children's rights via organising education and youth programmes in Hong Kong.
For more information about our community efforts, please visit our Community page.