Tanner De Witt supports Hong Kong Cancer Fund with Dress Pink Day 2015
23Oct2015
Tanner De Witt is committed to supporting important local and international causes. This week – despite having a number of staff absences due to the public holiday – we nevertheless managed a great turnout of 'Dress in Pink' supporters to raise awareness of and support women with breast cancer.  Our donation to the cause this year will support more than forty women in Hong Kong who have undergone breast cancer surgery. Tanner De Witt wishes to thank its staff for their ongoing commitment to and enthusiasm for these events. Congratulations to best dressed Michael and Christine!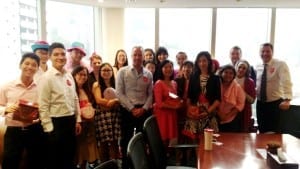 About the Hong Kong Cancer Fund
The Hong Kong Cancer Fund is Hong Kong's largest cancer support organisation providing free information and professional support to anyone living with or affected by cancer. Our goal is to make life better for people touched by cancer. Established in 1987, their vision was to better the quality of cancer support in Hong Kong and ensure that no one faces cancer alone. The charity began by offering free information and support to anyone touched by cancer which has slowly expanded over time to address all aspects of living with cancer. Hong Kong Cancer Fund's services are free; receiving no money from the government or the Community Chest, they rely solely on public generosity to sustain their free and ongoing cancer support services. To donate, please click here.