Tanner De Witt supports 2016/17 season of Mini Rugby in Hong Kong
21Sep2016
As long-term supporters of the sport of rugby in Hong Kong, we are very pleased to extend our support this year to the mini rugby players. Each new player of the 21 mini rugby clubs in Hong Kong will this year be offered a specially designed rugby ball to enable them to practise their skills using open spaces in district parks with their friends outside of usual club training hours.
Mini rugby really is a game for all; increasing motor skills in young people; fostering a love and respect for sport; and improving lifetime health.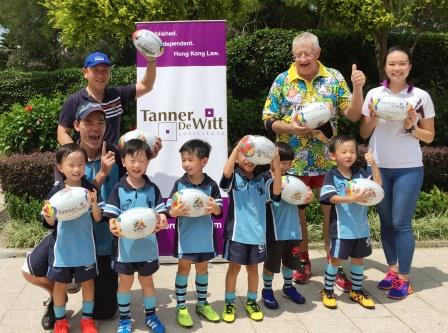 On Sunday 18 September, Mark Side and Natalie Lam of Tanner De Witt with Jim Leung, Chairman of the Minis, attended the Tuen Mun Sharks Mini Rugby Festival near the Gold Coast to distribute the first 500 of these balls. To our knowledge this is the first time this initiative has been part of the annual mini rugby scene and we hope it continues. The response has been overwhelmingly positive which is proof of the extended enthusiasm the players have for their sport and the community atmosphere of the well-attended festival was a great experience for all.

Working together with HKMRFU we designed this size 3 ball using the colours of many of the active clubs to produce a vibrant, unisex ball. We hope this increases passion for the sport.
If you would like your children to join mini rugby, please contact Brandon Huang, HKRU Head of Community & Development at [email protected]. Clubs welcome members throughout the season. Please visit the Hong Kong Mini Rugby Website to find your local club.
For more information about our community and sporting efforts, please visit our Community page.