Tanner De Witt sponsors Island School student athlete Jennifer Swainston in 24 Hour Race
03Jan2019
Tanner De Witt was delighted to support Consultant Philip Swainston's daughter, Island School student athlete Jennifer Swainston as she participated in the 24 Hour Race to raise funds against modern day slavery and human trafficking. Held on 1 and 2 December 2018, runners ran along Lugard Road on Victoria Peak.
"Big thank you to Tanner De Witt for sponsoring my team in the 24 Hour Race, a student-led youth movement that fights for the abolition of modern day slavery and trafficking. This year's race aimed to remove over 240 people, both victims and traffickers, from the human trafficking world and because of Tanner De Witt's very generous donation my team were able to take part in the race and run for a cause. I ran for the Island School Girls B team and eight of us ran a relay around the peak (3.6 km per lap). I had a wonderful time and everyone commented on my cool Tanner De Witt shirt!" – Jennifer Swainston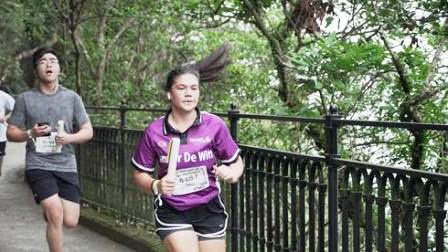 Jennifer's team came 7th out of 27 girls' teams – congratulations!
About the 24 Hour Race
The 24 Hour Race is the largest, student-run global movement to end Slavery. Students volunteer to organize or run their races in cities across the globe, building valuable social entrepreneurship skills. Funds raised through the races support anti-slavery NGOs to create lasting impact. To date, the 24 Hour Race has raised over 9 million Hong Kong dollars through the participation of over 10,000 runners from more than 200 schools.
For more information about our community efforts, please visit our Community page.