Our Commitment
Commitment to our Clients
Tanner De Witt Solicitors has a commitment to quality, impeccability and integrity in all aspects of the firm's work. The partners have confidence in the enthusiasm, skills and training of all members of the firm's professional and support staff. These features, combined with our innovative entrepreneurial spirit, have ensured a solid clientele that we are proud to serve.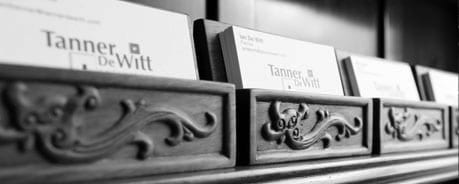 Commitment to our Lawyers and Support Staff
Tanner De Witt Solicitors has forged a real team spirit in everything we do. Our group of lawyers and support staff from around the world have come together in one firm, and we have created a strong presence in many of the markets where the firm operates. Each member of staff knows they are crucial to the firm and have a responsibility to each other and to our clients to meet our goals. Our approach is demonstrably successful by the high motivation and sense of personal professional responsibility in the members of the firm throughout the challenges they undertake.
Commitment to the Legal Profession
We believe in the paramount importance of the Rule of Law in Hong Kong and the part that lawyers must play in its preservation. We instill into our professional staff that it is the duty of every solicitor to uphold the profession's integrity. We take an active role in supporting the Law Society. Ian De Witt is on the Law Society Insolvency Law Committee, while Mark Side conducts work for the Law Society Disciplinary Tribunal. Other members of the firm are committee members in the Young Solicitors Group.
Commitment to the Hong Kong Community
We believe in investing in the community. Mark Side is well known for his pro bono work for domestic workers' employment and immigration cases. He is assisted in these cases by James Sherry of Gilt Chambers. As a firm, we consistently take part in a wide variety of community events and initiatives. We support a great deal of causes and always encourage our staff to be involved.
Please click here to read more about Tanner De Witt Solicitors in the Community.