Kevin Warburton speaks on Global Law Students Association panel
24Sep2020
Partner Kevin Warburton spoke to more than 100 students today at an online panel discussion organised by the Global Law Students Association, a wholly-student run organisation with over 1,000 highly ambitious, academically driven and internationally minded student members.
The panel that Kevin participated in was co-hosted by the Asia Bar Review. The topic was on international legal careers, and Kevin spoke alongside John Shum, Partner at King & Wood Mallesons, and Stephanie Chan, Founder/CEO of the Asia Bar Review.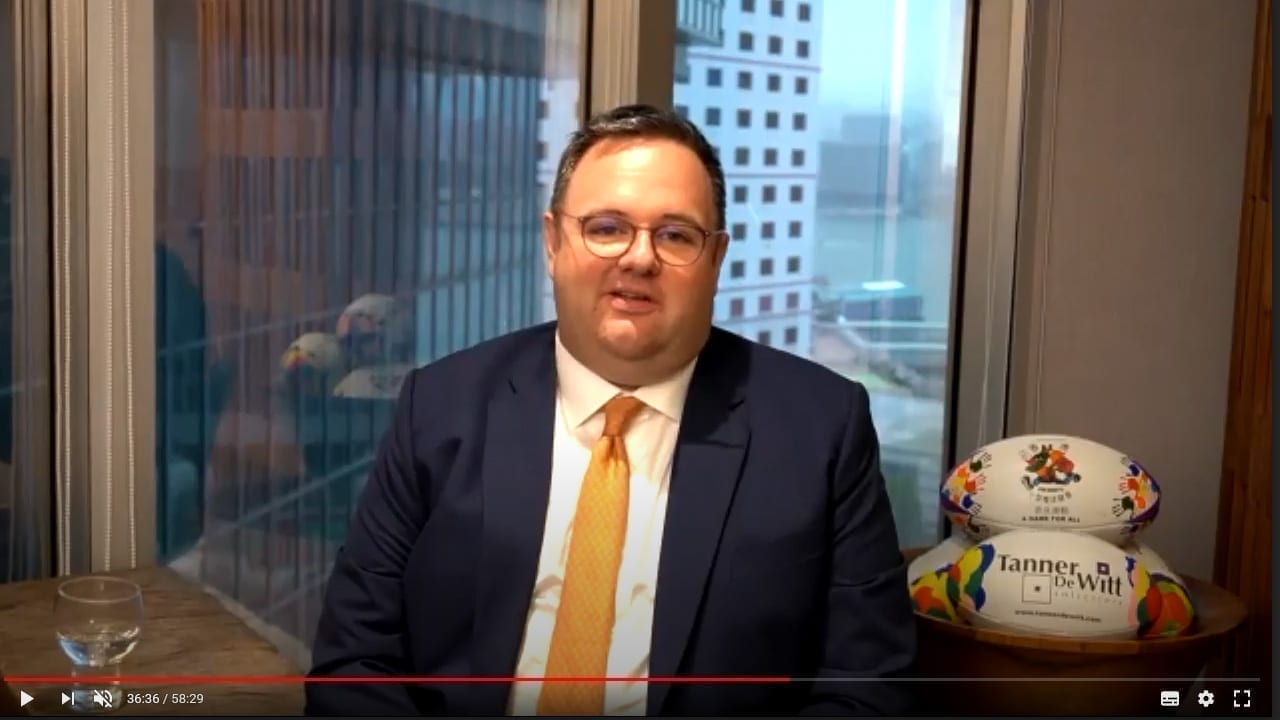 Kevin spoke about his experience as a lawyer who qualified in England and Wales and then moved to Hong Kong after 7 years of private practice in London. Kevin practised as a Registered Foreign Lawyer in Hong Kong for about three years, and then sat the Overseas Lawyers Qualification Examination to be qualified in Hong Kong.
The audience was very engaged and eagerly submitted questions for the panellists to answer. Kevin was very happy to connect with so many budding lawyers and looks forward to speaking on more panels such as these.
About the Global Law Students Association
The Global Law Students Association (GLSA) is one of Australia's pre-eminent law student societies and Melbourne Law School's only student association with a solely international focus.
The goal of the GLSA is to provide its members with information and access to international career opportunities as well as the chance to participate in programs and events designed to facilitate and foster interests in, and awareness of, international legal issues. The GLSA also endeavours to address the specific concerns and issues faced by international students.
To achieve these goals, the GLSA manages three Programs: the Professional Development Program, the Global Careers Program and the International Students Program (in collaboration with the Melbourne Law Students' Society).
In successfully coordinating a large number of events and initiatives under these three core programs over the course of the academic year, the GLSA is proud to be at the forefront of Melbourne Law School's Global Thinking.
About Kevin Warburton
Kevin Warburton is a Partner with a practice focusing on arbitration, litigation, regulatory investigations and inquiries, data privacy and alternative dispute resolution mechanisms. Kevin is experienced in advising clients in Hong Kong and overseas, including private and listed companies, financial institutions, high net worth individuals, entrepreneurs and multinational organisations on the following:
arbitration proceedings in front of a wide range of arbitral institutions including the HKIAC, ICC, LCIA and other bodies;
commercial litigation in Hong Kong and the UK;
investigations in Hong Kong (SFC, ICAC) and overseas (UK SFO and FCA as well as various US agencies including the DOJ, OFAC and others);
matters regarding data privacy and cybersecurity, including in relation to compliance, data breaches and investigations/enforcement.
Kevin read Law at the University of Oxford and completed his LPC in London in 2007 before passing the OLQE in 2019 in Hong Kong. Prior to joining Tanner De Witt, Kevin worked in the disputes, investigations and privacy teams of a Magic Circle firm in their London and Hong Kong offices for 13 years.
Please click here to learn more about our Arbitration practice.