Legal Focus: Expanded Scope of Cross-Border Enforcement of Civil and Commercial Judgments
12May2023
Hong Kong has long been and continues to be a leading disputes resolution venue for business and enterprises.
Hong Kong is placed in a unique position due to its legal system based on the common law supplemented by statues, and its close proximity to mainland China. Over the years, this has been enhanced by various reciprocal arrangements between the two jurisdictions.
A new regime on reciprocal enforcement of judgments is expected to come into operation in 2023
In October 2022, the Mainland Judgments in Civil and Commercial Matters (Reciprocal Enforcement) Ordinance ("the Ordinance") was passed. The Ordinance, once it comes into effect (expected to be in the middle of 2023), will give rise to a new cross-border enforcement regime which supersedes the existing regime ("the Existing Regime"). The New Regime is designed to apply to judgments made on or after the commencement date of the Ordinance and is anticipated to significantly expand the scope of reciprocal enforcement of Mainland court judgments in Hong Kong and vice versa.

The New Regime will enable civil and commercial judgments rendered by the Mainland courts to be enforced in Hong Kong by way of a streamlined registration procedure.
Key changes under the New Regime
As regards enforcement of Mainland judgements in Hong Kong, the following is a brief comparison of the key differences between the Existing Regime and the New Regime.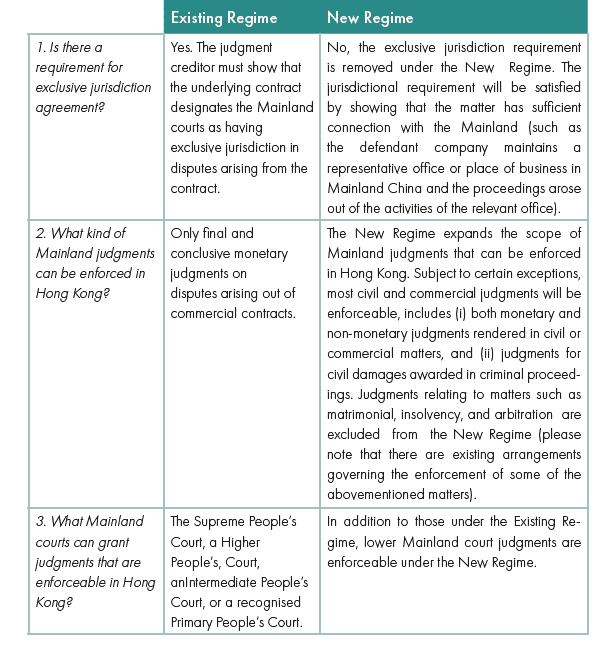 Registration and enforcement of Mainland judgments in Hong Kong
A judgment creditor with an effective Mainland judgment may make an application to the Court of First Instance ("CFI") in Hong Kong for a registration order on an ex parte basis. Thereafter, a registered Mainland judgment can be enforced in Hong Kong as if it were a judgment originally given by the CFI.

A person against whom a Mainland judgment is registered may apply to set aside the registration on specified grounds, such as the Mainland judgment was obtained by fraud or the enforcement is manifestly incompatible with the public policy of Hong Kong.
Looking ahead
With the expanded scope of the New Regime, we expect to see less re-litigation and witness an increasing number of applications for enforcement of Mainland judgments and applications for post- judgment assets freezing injunctions in Hong Kong.
Pamela Mak and Ling Meng
If you would like to discuss any of the matters raised in this article, please contact:
This publication was first published by the Dutch Chamber of Commerce in Hong Kong.
Disclaimer: This publication is general in nature and is not intended to constitute legal advice. You should seek professional advice before taking any action in relation to the matters dealt with in this publication.