Tanner De Witt listed as one of ALB's largest HK domestic firms for 2020
20Nov2020
We are delighted to announce that we have been listed as Hong Kong's 9th largest domestic law firm. This is the first time we have been included in the top 10 portion of the list, a testament to the growth that the firm has had during an especially tumultuous time. Despite a challenging economic period, Tanner De Witt has been committed to staying at the forefront of Hong Kong's business community.
The rankings are based on the number of qualified lawyers only (not trainees, paralegals etc.). For more information on our lawyers, please have a look at this link.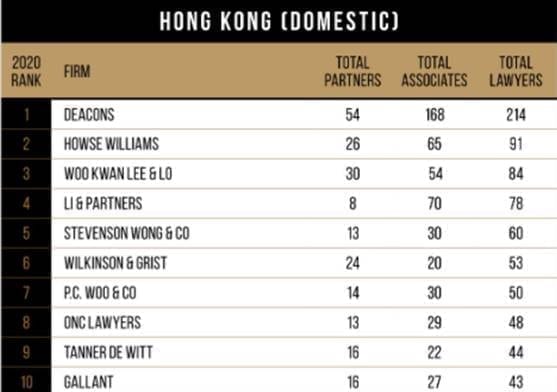 About Asian Legal Business
Asian Legal Business (ALB) is owned by Thomson Reuters, the world's leading source of intelligent information for businesses and professionals. With its portfolio of leading titles, online services, law awards and in-house legal summits, ALB provides authoritative and unbiased insights and unmatched networking and business development opportunities to legal professionals throughout the Asia-Pacific and the Middle East regions.
ALB combines news and analysis from its team of professional legal journalists and the expert opinions of senior industry professionals with Reuters news and insights that power businesses across the globe.
View ALB's digital version to see the full story.