Tanner De Witt attends HKRU celebration of men's Sevens wins
2410月2018
On 19 October 2018, Partner Eddie Look, Solicitors Herman Pang and Jonathan Yeung and Trainee Solicitor Joanne Lam attended a reception hosted by the Hong Kong Rugby Union ("HKRU") to celebrate the recent Gold medal wins of the Hong Kong national men's Sevens team in the Asian Games and also the Hong Kong Fire Services Sevens team in the World Fire Fighters Games.
The HKRU also invited Chief Executive Carrie Lam, New Zealand Consul-General Carl Worker and British Vice Consul Lawrence Chui to join the celebration of the Hong Kong national men's Sevens team first Gold medal in the Asian Games, having obtained silver medal at both the 2010 and 2014 Asian Games.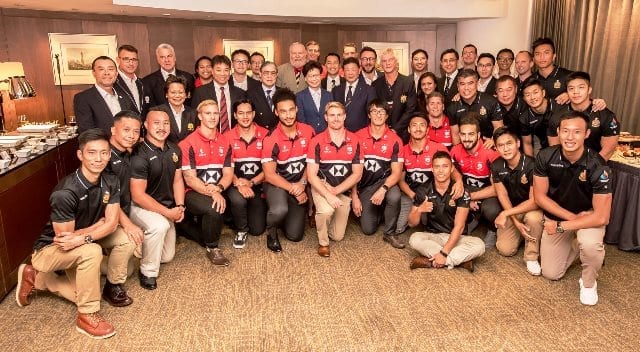 About The Hong Kong Rugby Union (HKRU)
The HKRU is the governing body for rugby union in Hong Kong. Founded in 1952 and since 1988 an affiliate of World Rugby (formerly the International Rugby Board), the union organises the world-renowned Cathay Pacific/HSBC Hong Kong Sevens as well as its own domestic leagues across all age groups, genders and standards of play.
For more information about our community efforts, please visit our Community page.