Tanner De Witt's rugby ball distribution programme featured in the SCMP
094月2018
This article originally appeared in the South China Morning Post's 'Sevens Seen' column by Robby Nimmo on 8 April 2018.
Getting a kick out of giving
When someone sent Mark Side a picture of a child playing in the streets of remote Mongolia with a familiar rugby ball, he knew his law firm's initiative was working.
Three years ago, Tanner De Witt set about helping rugby grow at the grass roots by donating a rugby ball to every child who signed up at the youngest level in the mini rugby clubs of Hong Kong.
"The sponsorship idea was planted by a mini rugby coach who noticed that many mini rugby players only have the opportunity to handle a rugby ball at training on Sundays," he says.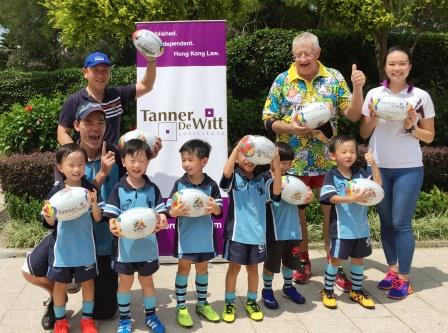 The firm decided on size three balls – the ones used by the youngest players. "At around HK$250, the cost of a ball represents a lot of money for families where putting food on the table is the priority. We wanted to put a ball in each of these player's hands to share with other kids all week."
Side's instincts were on point, considering that more than 70,000 households in Hong Kong survive on less than HK$15 a meal.
"Our goal was to promote the Hong Kong Rugby Union's mantra: 'A game for all.' We met the representatives of all 20 clubs in Hong Kong. Some opted to stick with their own balls. We're giving away 1,200 balls each year and get a kick out of going to the New Territories festivals to do this."
Side is chuffed when he sees the balls in use around Hong Kong attending his nine-year-old son Lucas' games, but also when friends and colleagues track the balls in random places. "One was used in a TV commercial. We didn't know where these bright, unisex balls would take us."
For more information about our community and sporting efforts, please visit our Community page.