Tanner De Witt supports 120th Philippine Independence Day Charity Ball & Concert
126月2018
Tanner De Witt was pleased to support the Philippine Association of Hong Kong's Charity Ball and Concert on Saturday 9 June. Partners Robin Darton, Ian De Witt, Eddie Look and Tim Drew attended to show support for this charity fundraiser which raised funds for three beneficiaries: The Hong Kong Bayanihan Trust, Gabay Guro, and Gawad Kalinga Community Development Foundation.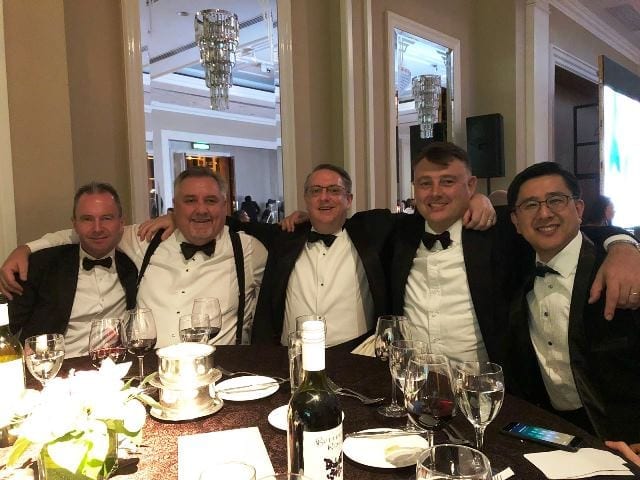 (L to R) Tim Drew, Ian De Witt, Robin Darton, friend of the firm James Wood and Eddie Look
About the beneficiaries
The Hong Kong Bayanihan Trust
The Trust is a non-profit making organisation formed by a group of Filipino businessmen in Hong Kong. The Trust currently operates a centre in Kennedy Town that caters to Overseas Domestic Helpers.
The Centre opens daily except Fridays and provides facilities such as auditorium, classrooms, library, music room, cinema, photocopying machines and telephones for both local and long-distance calls.
Gabay Guro
Gabay Guro or 2G is an education arm and a flagship project of the PLDT-SMART Foundation. It is a program run by volunteers composed of the PLDT Manager's Club Inc.
The core of the program are its pillars which defines the program of Gabay Guro.
Scholarships
Trainings
Housing and Educational Facilities
Livelihood Programs
Broadbanding and Computerization
Teachers' Tribute
Gawad Kalinga Community Development Foundation
Poverty in the Philippines and throughout the world is massive in scope and depth, and requires nothing less than a heroic response in people to truly make a difference. This is why Gawad Kalinga continues to rally all sectors of society to help achieve its vision to end poverty for 5 million families by year 2024.
Currently, Gawad Kalinga is present in almost every province in the country, engaging 10,000 barangays in over 3,500 communities and affecting 350,000 families. Gawad Kalinga has more than 4,000 volunteers on ground, going where help is needed the most. In their promise to leave no one behind, GK does not hesitate to enter some of the most troubled and war-torn areas. GK communities are known to be zones of peace, and they have successfully transformed slums into peaceful and productive communities.
For more information about our community efforts, please visit our Community page.