Tanner De Witt Gold Sponsor of McGill Society of HK's 40th Anniversary Cocktail
0711月2018
We were delighted to celebrate with the McGill Society of Hong Kong as they celebrated their 40th anniversary in the city on Saturday 3 November. The Hong Kong chapter of the McGill society is one of the University's oldest, largest and most active alumni branches outside of Montreal, Canada. Tanner De Witt boasts three graduates from McGill: Partner Eddie Look, Solicitor Herman Pang, and Paralegal Tara Chan.
Eddie and Tara attended to represent Tanner De Witt; Consul General of Canada Jeff Nankivell and the Principal and Vice-Chancellor of McGill, Prof. Suzanne Fortier, were also in attendance.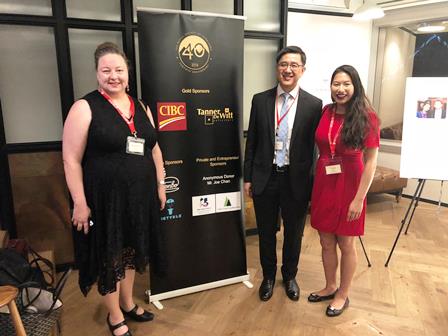 About the McGill Society of Hong Kong
Established in 1978, the McGill Society of Hong Kong is McGill University's alumni branch in the city. With more than 2,000 alumni members in its network, the Society is one of the University's largest, most active and best organized alumni branches in the world. The Society is a company limited by guarantee registered in Hong Kong and it has been operated as a not-for-profit organization since its establishment with the following objectives:
Social: Help alumni meet new friends and reunite with old friends;
Business: Offer alumni platforms to network and exchange business ideas, intelligence or market leads with each other;
Career: Provide students and young alumni career advice as well as job and internship opportunities;
Reputation: Help strengthen our university and our alumni community's reputation in Hong Kong
For more information about our community efforts, please visit our Community page.