Russell Bennett and Edmond Leung attend APAC HR Law Congress 2019 in Singapore
085月2019
Partners Russell Bennett and Edmond Leung were in Singapore early this week to attend the APAC HR Law Congress 2019. Organised by RHT Academy at the Singapore Marriott Tang Plaza Hotel, this year's Congress discussed evolving labour law changes and key discussion points such as:
How can HR stay abreast of the labor legislative changes to timely update robust policies and make better-informed business decisions?
How can HR gain familiarity with crucial legal knowledge to incisively manage labor matters during business restructuring?
What to do to mitigate the risks of costly labor disputes?
What are the latest robust and progressive employment practices?
How to balance employment rights and obligations?
On the Congress' second day on Tuesday 7 May, Russell gave a presentation on employment law highlights in Hong Kong. He discussed:
Legislative updates in recent changes of Hong Kong labour law
– Impending changes in labour protection and regulations on standard working hours and enhanced parental leaves
"MPF offsetting arrangement" will be soon abolished: How can employers budget for severance payment and long service payment with less government support?
Stricter discrimination law: how employers can integrate into internal policies to avoid any discrimination claims
The unenforceable non-compete clauses in Hong Kong: what else employers can do to protect the company's interests
Recent cases on employment disputes: how employers can mitigate the risks to avoid costly litigation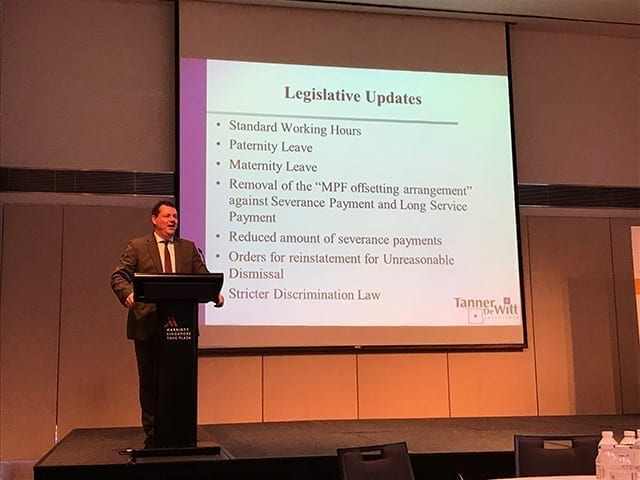 About Russell Bennett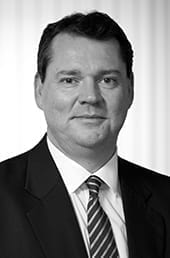 Russell specialises in all matters relating to employment law as well as dealing with dispute resolution and commercial litigation and regulatory advice.
On the employment side, Russell has extensive experience in acting for both employers and employees, with particular emphasis on high-value employment disputes in the financial sector. He advises on all aspects of employment law, termination entitlements, post-termination restrictions, bonuses, discrimination, drafting employment contracts, handbooks and other HR related documentation as well as immigration, health and safety and related criminal matters/prosecutions.
Russell also spent several years as regional in house counsel with a major international brokerage. He focused primarily on dealing with the restructuring of their employment practices, documentation and structures and resolving disputes and issues throughout Asia Pacific. In addition, Russell oversaw the legal aspects of HR management and certain regulatory functions.
About Edmond Leung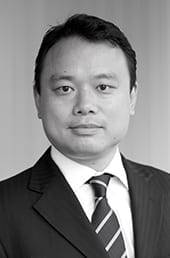 Edmond specialises in corporate and commercial matters, advising clients operating in and out of Hong Kong, and in a wide range of industries.
Edmond advises on mergers, acquisitions, disposals, joint ventures, re-organisations, private equity transactions, the establishment of funds including private equity, venture capital and hedge funds, and banking and finance matters. Edmond also advises on general corporate and commercial matters including the establishment of companies and businesses, franchise, commercial agency and distribution arrangements, and other commercial agreements. In addition, he advises on regulatory and compliance matters including in relation to financial services.
To find out more about Russell and Edmond, please click here.