Ian De Witt, Robin Darton and Veronica Chan attend the Singapore Insolvency Conference
258月2017
Three members of our Restructuring and Insolvency Practice (Co-Heads Ian De Witt and Robin Darton, and Solicitor Veronica Chan) were recently in Singapore to attend the Singapore Insolvency Conference, of which we were Gold Sponsor.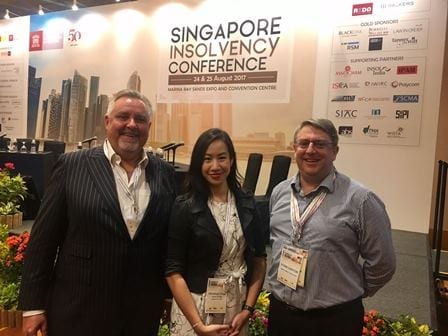 About the conference

After successfully organising five annual National and Regional Insolvency Conferences, the Law Society of Singapore launched its flagship Singapore Insolvency Conference this year. Topics discussed included:
Cross-border restructuring in Indonesia and Singapore's role;
Cross-border restructuring in China and Singapore's role;
Restructuring of bond debt;
Restructuring and insolvency in the offshore oil & gas and marine sector.
Chapter 11 and Chapter 15 proceedings and Singapore's approach towards recognition of foreign insolvency proceedings;
Alternative capital providers/distressed investors in restructuring situations with a focus on the role, opportunities and challenges/issues faced by distressed investors;
Keynote speakers at this year's event included Singapore Minister for Home Affairs and Minister for Law K Shanmugam, Honourable Justice Kannan Ramesh, Honourable Judicial Commissioner Aedit Abdullah and Honourable Justice Belinda Ang Saw Ean.