Kimberly Dasse attends launch of the Handbook on Initial Victim Identification and Assistance for Trafficked Persons
01Aug2018
Family and Private Client Solicitor Kimberly Dasse recently attended the International Organisation for Migration (IOM)'s launch event for the Handbook on Initial Victim Identification and Assistance for Trafficked Persons. The Handbook was developed by Hong Kong's Civil Society Anti-Human Trafficking Task Force, which was founded in September 2016 to enhance the coordination and information sharing on counter-trafficking efforts and to increase the collective protection of victims in Hong Kong. The Handbook aims to guide government and non-government service providers, including health workers, lawyers, frontline social workers, and other professionals who may encounter trafficking victims.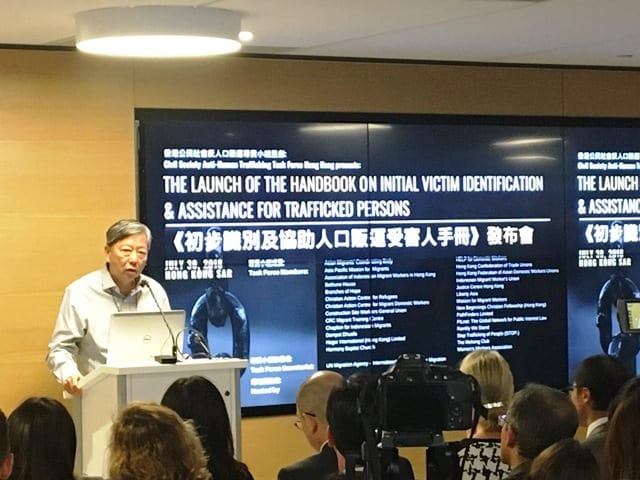 Members of our firm in the Criminal and Family and Private Client departments occasionally advise at-risk individuals on a pro bono basis. By attending events such as this launch, our Solicitors stay informed on best practices.
About IOM
Established in 1951, IOM is the leading inter-governmental organization in the field of migration and works closely with governmental, intergovernmental and non-governmental partners.
With 172 member states, a further 8 states holding observer status and offices in over 100 countries, IOM is dedicated to promoting humane and orderly migration for the benefit of all. It does so by providing services and advice to governments and migrants.
IOM works to help ensure the orderly and humane management of migration, to promote international cooperation on migration issues, to assist in the search for practical solutions to migration problems and to provide humanitarian assistance to migrants in need, including refugees and internally displaced people.
For more information about our community efforts, please visit our Community page.